Rafa Lombardino, PLD Administrator
Yet another ATA Annual Conference has come and gone in the blink of an eye. It was great to see friends, meet new people, share experiences, and learn from one another. Here's a summary of what PLD members got to enjoy in New Orleans:
Day One
Keeping with tradition, we gathered around the PLD table at the Welcome Celebration to say our hellos, enjoy dinner, and take pictures at the photo booth. Some of us went out to explore the New Orleans nightlife in all its musical glory, while others stopped by House of Blues for a small gathering organized by SmartCAT.
Photos by Vanira Souza
Day Two
After the continental breakfast and opening session, we had our first talks presented by PLD members. Right before the lunch break, Timothy Friese focused on tricky vocabulary in "Whipping Portuguese>English Translations into Shape." He shared some examples of translations he worked on or reviewed―especially those of a legal nature―to brainstorm ideas and make into-English translations sound as natural as possible.
After lunch (luckily!) it was time for one of the most delicious sessions of the entire conference: "Gourmet Translation in Portuguese: Adding Some Flavor and Depth," presented by Elenice Barbosa de Araujo. She explained her process as an experienced book translator in the nonfiction cooking segment and showed some examples of how translation without proper research can leave a bad taste in your mouth―especially when it comes to ingredients, measurements, and overall food preparation. Elenice also explained the differences between some key words, such as "bolacha" and "biscoito," "cookie" and "crackers," "pie" and "tart."
At the end of her session, Elenice had not only one but two surprises reserved for attendees: first, a tasting session with different crackers, cookies, and exotic Brazilian jams; and second, the launch of a brand new website called EcoVege, which features translated vegan recipes written in English by translator Naomi Sutcliffe de Moraes and translated into Portuguese by Elenice herself.
Later in the afternoon, PLD member Manuela Sampaio presented a session dedicated to independent contractors and shared some "Project Management Tips, Tricks, and Tools for Freelancers." She helped attendees navigate through challenging projects that need to be tackled by a team, such as those for which we'd have to bring in colleagues working into other target languages or for large volumes with a tight deadline.
At night, it was time for our cocktail party at Dragon's Den, where 45+ of our members got to talk, enjoy finger food and drinks, and dance to 1980s music. While the party may have been over for some at the end of our time slot at Dragon's Den, others went on to party around town. They got to enjoy some street music, join some groups parading down French Quarter streets, or bar hop to hear bands playing different musical genres well into the night.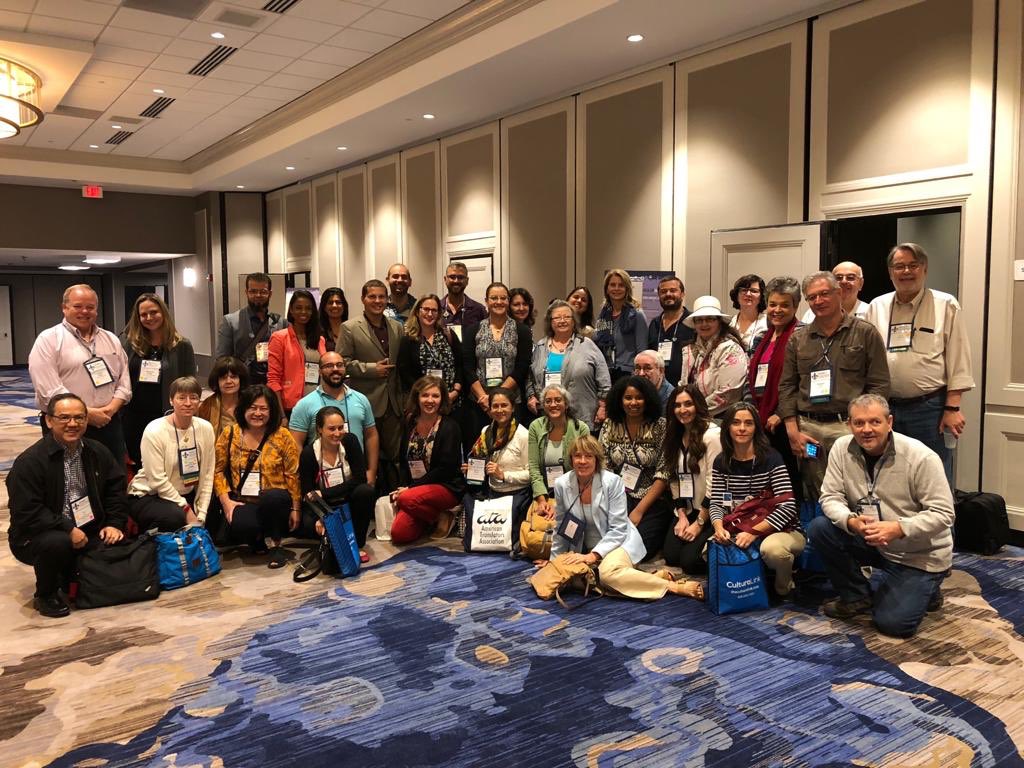 Day Three
In the morning, we headed over to a session hosted by the Translation Company Division in which PLD member Renato Beninatto and his colleague Tucker Johnson talked about "The Business of Translation." The authors of The General Theory of the Translation Company shared their experiences and talked about how translators can tap into their entrepreneurial side to take their language operations to the next level.
In the afternoon, PLD member Naomi Sutcliffe de Moraes was featured by the Italian Language Division and presented a session titled "Translating and Editing Academic Articles into English," which included examples from material originally written in Portuguese and Italian. Naomi shared the challenges of translating highly specialized material and suggested ways translators can interact with the authors of academic articles to ask the right questions and be accurate in their translations.
Also in the afternoon, former PLD Administrator Tereza Braga continued her series "The 100 Most Difficult Words to Translate into Portuguese." In this installment, as in those presented in two previous years, we had a fun and interesting brainstorming session following Tereza's examples and trying to come up with the ideal translation for some false friends and pesky terminology.
At night, some of us went out to dinner to learn more about the local cuisine, checked out other New Orleans bands playing at different nightclubs, or went back to House of Blues for a party hosted by Wordfast.
Photos by Rafa Lombardino
Day Four
In one of the early Saturday morning sessions, Jayme Costa-Pinto and Karen Sotelino teamed up as in previous conferences to show us two sides of the Portuguese/English translation coin: domesticating or foreignizing. These two experienced literary translators showed some of their work in "How Clear Should I Make It?" and illustrated their points with some passages of books they have recently translated.
Before lunch, we had our PLD Annual Meeting, when most of us sit down to catch up and talk about what has been done throughout the year and think of new ways to improve our division. We had a call for volunteers for the Nominating Committee, considering that we'll have elections for new PLD Administrator and Assistant Administrator in 2019, and made plans for ATA60 next year in Palm Springs.
In the afternoon, as part of the sessions selected by the Interpreters Division, PLD member Cris Silva joined Marilia Vinson to talk about continuous improvement in interpretation. Their talk, "Self-Assessment: An Introspective Overview of Cognitive Interpreting Skills," provided a practical framework for interpreters to constantly perform self-assessment in order to assure quality in their interpreting performance. They also highlighted some drills and activities to help attendees enhance their skills.
Finally, we concluded our learning experience with two excellent sessions by our Distinguished Speaker Marco Neves, who came from Portugal to share ideas on "How to Deal with Portuguese-Language Varieties: A Translator's View." Marco led attendees through a brief journey through the evolution of the Portuguese language, sharing anecdotes from his childhood in Portugal in the 1980s, when he would read Turma da Mônica comics in Brazilian Portuguese and watch Brazilian soap operas and movies dubbed in Brazil.
He also explained how some groups have tried to linguistically "protect" European Portuguese from Brazilian interference (especially as more mass media is being produced or dubbed nationally in Portugal) in hopes of preventing the adoption of too much vocabulary and expressions from Brazil. Marco then addressed the spelling reforms of the Portuguese Language Orthographic Agreement, first signed by lusophone countries in 1990, which was then changed in the late 2000s and finally started to be enacted this decade.
Marco also talked about how the era of the internet and social media has been bringing Brazilian and European Portuguese even closer together for the youngest generation, and mentioned some cases when his young son uses words from Brazilian Portuguese he learned with YouTubers from Brazil.
Right before the end of the first part of the two-hour session, Marco made the audience aware of the deep similarities that our language has with Galician, piquing our interest when he showed texts from Galician authors that resemble Portuguese more than Spanish. During the break, a welcome coincidence occurred when a Galician translator based in California (who is a dear friend of mine) showed up, so I introduced her to Marco. We had a multilingual chat as she spoke Galician while Marco and I spoke European and Brazilian Portuguese with perfect comprehension, and had a pleasant talk about the roots of our common language.
See you at ATA60 in Palm Springs next year!
---
Watch the Video
Highlights from ATA59 are now available!
ATA Photo Gallery
See the fun and faces of ATA59!
Photo Booth Pics
Photos can be saved and shared!
Attendee Photo Gallery
See the pics attendees have taken!
See the Tweets
Attendees use #ata59 to share!