Happy New Conferences!
Out with the old, in with the new. It's time to prepare for a new year, a lot of work, and a bunch of great conferences!
The Brazilian Association of Translators and Interpreters (Abrates) has opened registration for its 10th Translation and Interpretation Conference, to be held in São Paulo on May 31–June 2, 2019.
This year's event marks the 45th anniversary of the Association and will focus on what the future holds for professional associations, celebrating the fundamental role they play in the marketplace and in the performance of current and future professional translators and interpreters.
Last year, our colleague Katia Perry attended the Abrates conference and was kind enough to accept our invitation to write a short review about the event, which we now share with you.
We hope this gets you excited enough to start planning to attend!
---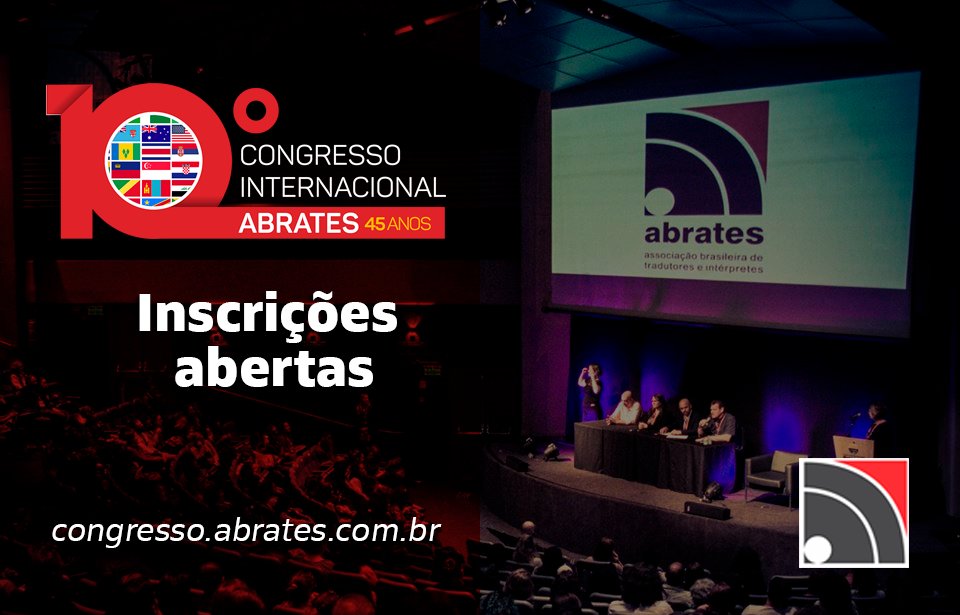 About the 2018 Abrates Conference
By guest writer Katia Perry
The 9th International Conference of Abrates (Brazilian Association of Translators and Interpreters) took place on June 15–17, 2018, at the Hotel Othon Palace in Rio de Janeiro. As in conferences past, the first day was filled with workshops on topics of interest to the translator community. In addition, a certification exam was held. At the opening ceremony that night, William Cassemiro, the current president of Abrates, gave a review of activities during his tenure and then passed the baton to the new president, Ricardo Souza, elected to lead the Association until 2020. After the ceremony, keynote speakers Petê Rissati and Rane Souza spoke on a topic that is difficult, distressing, but unfortunately essential in Brazil today: inclusion, representativity, and respect for differences. Indeed, it gave us all pause for reflection and emotion. Afterward, everybody mingled during the traditional opening cocktail party.
The next two days offered a wide range of presentations on topics to meet all tastes and needs: orientation sessions for those starting their careers, talks on personal branding, copyrights, tax issues for the legal exercise of the profession, terminology, film and theater translations, dubbing and subtitling, books, games, and several presentations on machine translation from a variety of perspectives (researchers and developers, translation agencies, translators), among other topics. On Sunday, space was even provided for those who wanted to watch Brazil's first match in the Soccer World Cup games.
An app for the conference enabled attendees to easily look up the programming, get in touch with speakers, and rate the talks, and was seamlessly integrated with Facebook, Instagram, and Twitter. A new feature this year was the use of a silent conference audio system with multichannel headsets, which made it possible to hold two presentations in the same space without either interfering with the other. The system still needs some adjustments, in my opinion, but it was intriguing and enabled a substantial increase in the number of presentations without having to expand the space reserved for the conference.
As always, there were plenty of opportunities for networking, interaction with representatives from training and support programs for translators and interpreters, and, naturally, conversations with old and new friends, all framed by the gorgeous Copacabana Beach, still as lovely as always.
---
Katia Perry is a Brazilian chemist and translator living in Minas Gerais, Brazil. Since 2001, she has been translating from English and Spanish into Brazilian Portuguese. Her specialties are chemistry, pharmaceuticals, and medicine, but she also translates materials on nutrition, engineering, gastronomy, and related subjects.
Follow Abrates on Twitter
Ainda não fez a sua inscrição para o 10º Congresso Internacional da ABRATES?

Acesse o link https://t.co/y6jQhSwqjp e garanta a sua vaga!#abrates #tradutor #interprete #libras #abrates45 #nomedotradutor pic.twitter.com/5wCMSAHHRx

— ABRATES (@_abrates) January 2, 2019