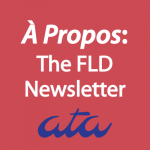 By Amanda N. Williams
While most of America was grilling out, drinking beer and enjoying the fireworks on the 4th of July, I was sitting in a conference room learning about hedging foreign exchange (FX) risk, the transition from LIBOR and EURIBOR to alternative interest rates, BASEL 3 capital requirements and interest rate benchmarks, and participating in workshops on how to edit for the European Central Bank and write clear corporate communications, among other things. I plan on spending my 4th of July holiday the same way every year.
Why on earth would I do this to myself?
I'm sure we've all heard one version of this or another, but over the past ten years, our market landscape has started to change. New technologies are being introduced every day, translation companies are consolidating into mega-companies, some translators are experiencing pricing pressures—the market is fracturing, and we're all trying to find our rightful place and still make a good living in this new world. For me, finding my place involves constant work to improve my subject matter expertise, target language writing skills and source language skills. I want my work to stand out. That's why I make it a priority to attend conferences overseas every year.
But can't you do all those things in the US? Not nearly to the same extent. I've found that conferences in Europe tend to be much more specialized and in-depth. They're often in your source language country (although that wasn't the case for this Swiss conference I just attended), and I've noticed that at European conferences, translators are more open to showing their work (in portfolios and in workshops), so you get to see some really outstanding translations. It really opens your eyes to a whole new world of possibilities and pushes you to take your own work to the next level.
ASTTI Financial Translation Summer School
Nestled in the Bernese Highlands of Switzerland on the shores of Lake Thun, Spiez is a picture-perfect Swiss city that looks like it came straight out of The Sound of Music. You couldn't pick a better location for a highly specialized translation conference. On July 3, 2019, over 80 financial translators from 10 countries as far away as the United States and Australia came together to attend this three-day deep dive into finance and financial translation, organized by the Association suisse des traducteurs, terminologues et interprètes (ASTTI).
We spent our days attending incredibly technical sessions and rigorous three-hour hands-on workshops and our evenings cruising the pale blue waters of Lake Thun or relaxing with a pint at the quirky and quaint Piratenbar, hidden on a back street near the lake. Downtime is practically required after concentrating so hard all day, and the conference organizers managed to strike a perfect balance for attendees. Here are some of my favorite highlights.
Translations are like fingerprints – no two are alike
This year, ASTTI hosted its very first translation slams—French to English, English to German, English to French and English to Italian. The French to English slam pitted Martin Hemmings, MITI (our distinguished speaker at ATA60 in Palm Springs, by the way) against Sylvia Smith. It was one of the most fascinating slams I've ever seen.
The ASTTI organizing committee did a fantastic job selecting these slam participants. They are both talented translators with impressive portfolios in their own right, and their respective styles couldn't be more different. Sylvia works for a Swiss bank and has a very technical background, while Martin mainly works for big NGOs, government agencies, and corporations looking for target audience-focused translations. Both translations were well-written, but completely different. Sylvia took a careful banker's approach, adding in explanations where she thought necessary, while Martin assumed the target audience had the appropriate background knowledge to understand the text and focused on style and concision. Sylvia's translation ended up being longer than the French while Martin's was 20% shorter.
That slam was the clearest example I've ever seen of how two exemplary translations of the same text can be so utterly different.
And for those who have not yet met Martin or seen his work, you don't want to miss his two workshops at ATA60 in Palm Springs. Trust me on this. I squealed with joy when I learned he was coming to present at the ATA conference.
Getting into the nitty gritty
As I mentioned above, this conference was highly technical. Full hours were devoted to specific topics in finance. I love this because the more we know about a subject, the better we're equipped to translate about it. I dealt with accounting in my former career, but the world of accounting and finance is so vast there's always some aspect of the field you can learn more about. And things change all the time, so it's important to get refreshers and updates on a regular basis.
This slideshow requires JavaScript.
For the most part, the presenters of these sessions were not translators—they were bankers, university professors, a former CEO of the Belgian Stock Exchange and current macro-economist, a member of the European Central Bank, etc. Who better to teach us about current trends in accounting and finance than the people living them?
"The most important investment you can make is in yourself" — Warren Buffet
Is it expensive to attend conferences in Europe every year? Yes. Is July 4th weekend the most optimal time to go? Not exactly. Will these things deter me from going? Never, because what I gain from these conferences is invaluable—new leads, new colleagues and friends, a whole lot of knowledge and a thirst to constantly improve. Every year I attend, I'm a little less afraid of a machine taking my job as AI and NML progress, and that peace of mind is worth its weight in gold.
Amanda N. Williams is an ATA-certified French to English translator specialized in business, international trade and financial translation. Prior to becoming a translator, she had a career in international trade where she held roles in sales, operations and trade compliance management.
Amanda currently serves as assistant administrator for the ATA's Literary Division. She also served six years on the Board of Directors of the Atlanta Association of Interpreters and Translators (the Georgia Chapter of the ATA). You can find her on Twitter as the Adorkable Translator (@Adorkable_Trans), on her website at www.mirrorimagetranslations.com or you can reach her via email at amanda@mirrorimagetranslations.com.