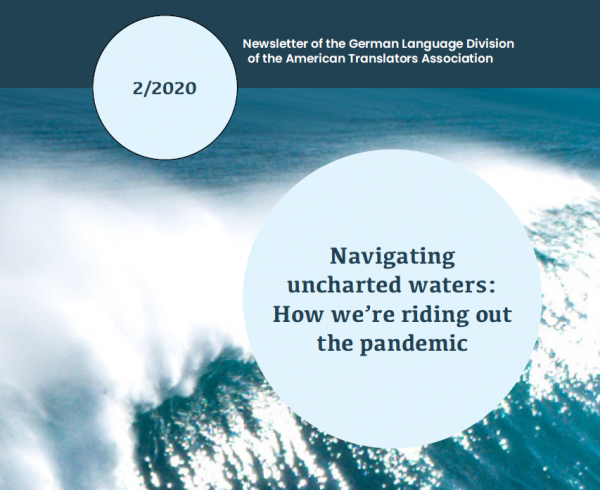 The 02/2020 issue of the German Language Division's biannual newsletter—interaktiv—is now online. (Find past issues here.)
In our second issue of 2020, we focus on how the COVID-19 global health crisis has impacted our lives as translators and interpreters. This is the first issue produced by our new layout editor, Daniela Radivo Harder, who has given interaktiv a fresh new look!
Here's a glimpse of what's inside:
Interviews with three working moms about balancing work and family life during the pandemic-induced shutdown
A physician's take on the important role interpreters play in our healthcare system
Stories how several GLD members adjusted to the "new normal"
A COVID-19 glossary of German terms
An overview of GLD sessions at the ATA 61st Annual Conference
Updates from our GLD Administrator, Ruth Boggs, and our European Coordinator, Ellen Yutzy Glebe
A profile of our interaktiv copy editor Sabine Seiler
A review of Dr. Ingo Stüben's Dictionary of Metallurgy and Metal Processing
And more!
Happy reading!
Mit besten Grüßen aus San Diego
Marion Rhodes
Editor-in-Chief
Acknowledgements
Special thanks to our contributors to this issue: Ruth Boggs, Ellen Yutzy Glebe, Christine Lorenz, Annett Kuester, Ivonne Reichard-Novak, Elani Wales, Pavitra Baxi, Geoff Chase, Christopher Hale, Heike Holthaus, Sabine Seiler, and Stella Waltemade.
A huge Thank You also to my wonderful editorial team, who worked hard during challenging times to make this issue a success: Daniela Radivo Harder, for her creative efforts; Ivonne Reichard-Novak, Annett Kuester, Melissa Kostelecky, and Sabine Seiler, for making sure our English and German copy reads well and follows the appropriate style conventions; Ute Kegel, Kim Scherer, Jill R. Sommer, and Erin Riddle, for catching any inconsistencies, spelling, or grammar errors before they reach our readers' eyes; Carlie Sitzman, who makes sure we always have a book review to include; and Stella Waltemade, who keeps us updated on all the important T&I events happening around the world.
Thank you all!
The call continues – we want you!
Are you interested in joining our team? Hone your skills (and develop new ones), expand your network, and give back to your profession by becoming an interaktiv contributor.
We are also looking for bloggers to expand our content offering on the GLD blog. Whether you already have a successful blog or are just getting started, we'd be happy to reprint relevant content in interaktiv. On the other hand, you can reprint any posts you draft for our audience on your own blog!
Marion Rhodes is a bilingual English/German copywriter, ATA certified English-to-German translator, and search engine optimization specialist at Integrated MarCom Translations. Before starting her translation business, Marion worked as a reporter for the Omaha World-Herald in Nebraska and as a freelance writer. She holds a bachelor's degree in journalism and a master's degree in integrated marketing communications.
Marion is a frequent speaker at the ATA Conference and has presented at various other translation conferences, both in the United States and abroad.