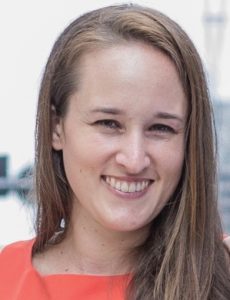 Location: Sao Paulo
Language: Portuguese
Get in touch: eherronsweet@gmail.com
Elizabeth Herron-Sweet is a translator and interpreter with ATA certification for Portuguese into English translation. She is originally from San Diego and has a B.A. in International Studies with a concentration in Portuguese from Middlebury College. She worked as a corporate paralegal at an international law firm for six years in New York and São Paulo, focusing primarily on capital markets, M&A and FCPA compliance. She is now a translator and interpreter in Brazil with her company Ideal Translation (www.idealtranslation.com.br), where she and her Brazilian partner Patricia Cardim, who do all their work as a pair, specialize in legal, business and academic translations. She has a certificate in English to Portuguese translation from New York University and a certificate in Basic Training in Conference Interpreting from Versão Brasileira in Curitiba. She has also worked as a college adviser and plays on a women's soccer team in São Paulo.