By Leo van Zanten, DLD Assistant Administrator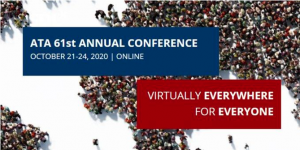 We have had our Annual Conference for this year, and it was not great to not be able to see you all in Boston. Many of us looked forward to meeting our colleagues and friends. It's a great occasion to gather educational information, to network, to get together with our friends and/or make new ones, and to have a drink at the bar, or dinner. A great combination of fun and work.
This year was very different. To quote Madalena from her closing speech last year: "Especially for those of us who are translators and spending so many hours of our lives behind a screen, it is so important to get up from behind the screen and experience the energy and learning that comes from 1,500 language professionals joining together." For this year however, she could only say thanks for spending time behind your screens again with 1,500 language professionals.
Despite all the challenges, the ATA managed to put together an Annual Conference that was new and unique, with a program that looked like usual, but that felt like a different experience.
For those of you who had to miss it, or decided not to register, I have tried to provide an overview of what it was like, by using feeds from Tweetstorm #ATA61.
Like every year, it started with the Opening Session. We started #ATA61 off right by attending the Opening Session at 11:00 -11:30am (EDT)! President Ted Wozniak and President-Elect Madalena Sánchez Zampaulo provided an overview of conference highlights and discussed general agenda items that all attendees needed to know.
That was the start of the three-day virtual experience, where enjoying #ata61 from the comfort of our homes was convenient, but a virtual Opening Session just didn't offer the same goosebumps experience as seeing 1k+ translators filling a conference hall, and you miss the interactions with colleagues and friends.
Seeing last year's slide show while waiting for the session to start made some miss their peeps, while others were perched in front of the computer, looking forward to spending a few days (virtually) with colleagues from around the planet.
For others there was a positive side to this. They probably would not have been able to attend in person, so it was actually a blessing in disguise that the conference was virtual this year. And if you're not a fan of roaming the hotel hallways, your feet were not aching after walking these rooms for +10 hours. For someone who looked at the agenda and was unable to choose between sessions, it was nice to know that you can watch them later too. So, you just had to pick one, relax and watch it live.
With a little imagination and creativity, attendees mimicked the conference experience by piping jazz through the speakers during conference breaks, like you'd hear in the hotel elevator. Or aimlessly browsing random translator profiles in the community tab, kind of simulating the serendipity of chatting with whoever sits next to you for morning coffee.
For the attendees from Europe there was an additional challenge, because they had to stay up late to be able to attend the full day of sessions. Some were fried after sessions that lasted until well after midnight. Luckily, they have all the recordings available for at least the next 6 months.

Ted Wozniak, ATA President, opened the conference and made the following clear (under)statement: "The best thing about being ATA President this year, is not being the ATA President-Elect/Conference Organizer this year…"
Being virtual added some new dimensions. People commented on the furniture behind Madalena during her presentations and noticed that they have the same piece of furniture at home. "We love this piece! Great taste!". The more inquisitive attendees wanted to know what others were wearing: "Raise your hand if you're wearing a nice top with shorts or pajama bottoms".
Then there was always the question about what everyone was up to during breaks, or having for breakfast or lunch. We know for example, that lunch for Carlie Sitzman was maple-walnut ice cream.
No conference is complete without the Mindful Movement and Zumba classes. Those who usually feel too self-conscious to do this in person, could now try this virtually.
The Annual Awards Presentation this year felt more like a TV program.
This event was hosted by Caitilin Walsh and Karen Tkaczyk with the Scottish accent. Someone was wondering "Are Caitilin and Karen the Tina Fey & Amy Poehler of the translation world?"
We were all in front (or is it behind?) a screen and ATA had asked a few members to do a vlog about ATA61. We saw videos from Elena Langdon, Marion Rhodes, and Carlie Sitzman.
Thanks to our dedicated PR Committee and many other dedicated volunteers, we heard that ATA is the go-to resource for USA TODAY, NPR, AP and other media outlets for all things translation. We have come a long way!
One of our DLD members, John Decker, read a piece during the After Hours Café organized by the Literary Division.
At the end of each day we could choose between two networking events. At Stronger Together we could bring our ideas to develop. For those who didn't have enough time, the Community tab will still be open to conference attendees for 6 months on the virtual platform. Attendees will still be able to connect through the tab by logging in with their email. Brainstorm Networking was a fun way to interact with all of our colleagues in small groups. A great idea!
For those that couldn't get enough networking there was the new Conference Lounge on Saturday from 8:00AM – 6:00PM. That's right—all day long!
The ATA 2020 Election took place via proxy. Proxy information was sent to all Voting Members. No mail in ballots, fake ballot boxes, or other distractions for ATA.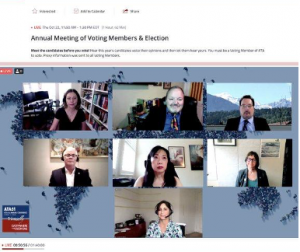 On Thursday there was Coffee with the Candidates. Coffee was not mandatory. You could have something stronger, and nobody was checking. People logged in from various time zones, said hi, and asked great questions to Veronika Demichelis, Robert Sette, Robin Bonthrone, Antonio Guerra, Manako Ihaya, Elena Langdon, Lorena Ortiz Schneider.
Thank you to all the candidates for stepping up and running for the ATA Board of Directors. We appreciate you!
All of us voting members were also asked to cast a vote on two proposed Bylaws amendments. Here are the results from the vote on these two:
1) Proposed Amendment to the ATA Bylaws – Rights and Privileges – Failed;
2) Proposed Amendment to the ATA Bylaws – Multiple Candidates – Passed.
Usually we end the conference with the Closing dance. This year, each of us could choose their own music and dance from the comfort of their home. No complaints about the DJ or music choice, and you could dance in your pj's if you wanted to.
We had almost 1,500 registered attendees! Congrats to conference organizer Madalena Sanchez Zampaulo and ATA HQ for putting together an excellent virtual program for #ata61!
In a few weeks we will continue with Part II covering some of the educational sessions. Stay tuned for more!