By Leo van Zanten, DLD Assistant Administrator
During this virtual conference there were 120 Educational Sessions. At a regular conference it's impossible to attend all at the same time, and the same is true virtually. Good thing is that the recordings are available until May 1, 2021 to all of us who registered, so we can catch up on the ones we didn't attend during those three days.
All presenters had to present from their home. This added some dimension and challenges. One presenter mentioned: "The gardener of my apartment complex is here today. The only room far enough away from him and with a door is the bathroom. Contemplating if I should present my session from the bathroom or the closet".
We learned about #ATA61Cybersecurity, and heard about things we probably have heard before, but that most of us still don't practice. One of the many golden rules in this presentation about implementing a cybersecurity program was: "It's important to back up our operating system in addition to backing up the software, data and website. Who has access to your device, workstation, and router? Physically, and via a password. Create strong unique passwords. The password manager is your friend. 'I don't like pineapple on my pizza!' vs 'Password123': choose your passwords carefully whether you work from home, are a small business or a larger company"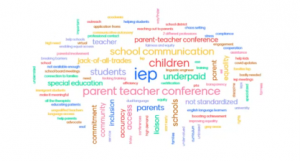 During #ATA61Professionalize, the National Effort to Professionalize Educational Interpreting and Translation showed an excellent use of the menti.com platform (see picture) to show live poll results during a virtual presentation. Actually, something we can also use during Zoom meetings or other online meetings.
We had a session about predicting the future, #ATA61FutureProof. Not with a crystal ball, but by looking at what happened in the past. History repeats itself. We heard that the best example of buying behavior is you, your family and your friends. Ask yourself, why would I buy from this person? Do I always buy based on price? What are the other factors? Pricing is never the only factor when buying something. "We sell trust. Clients need to believe and trust us before they buy from us".
"Focus on what will not change (in the next 10 years)":
– customer service –> people
– complexity
– converting content from one language to another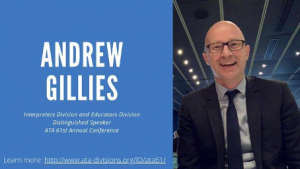 The Distinguished Speaker of the Interpreters and Educators Divisions, Andrew Gillies, presented #ATA61LongConsec1nt.
We learned that:
Shadowing = listening + speaking at the same time.
Simultaneous Interpreting (SI) = listening + thinking at the same time.
So, you must practice SI to prepare for SI. Shadowing lacks the processing part that is necessary when you interpret.
In an ideal world, you will always have notes to use as reference, but it is more important to rely on your memory. Visualize the message and it will become easier to replicate. Sometimes longer speeches are better than sentence-by-sentence, since it gives us the full picture!
Attendees paired up online to participate in the exercises, and it was encouraging to see that interpreters have several memory tools at their disposal!
Dorothee Racette was for some the voice of calm in the storm in #ATA61Focus, with the suggestions about how to establish and maintain focus, not only to get our current work done, but also to make progress on long-term career goals.
This session was divided into three parts: 1) How distractions affect your business, 2) How to make better use of your freelance hours, 3) How to shift from urgent to important.
"Time has nothing to do with getting things done during your downtime." It's really about motivation and pacing. She is so reassuring about distractions not being our fault: the world is crazy!
Some attendees shared immediate action: "I'm buying an analog clock for my office and going to work hard on setting better time rules/boundaries."
We heard some important statements, like "Self-care pays for itself in time", referring to self-care routines: Exercise, Sleep, Meals, Breaks, Outdoor time. And a useful principle to set up your office space is the "OHIO" rule: Only Handle It Once.
A special mention on an interesting session from our own Thomas West, #ATA61CivilProcedure, about Civil Procedure in the Netherlands and the US. Although the session was in English, Thomas started his introduction in Dutch.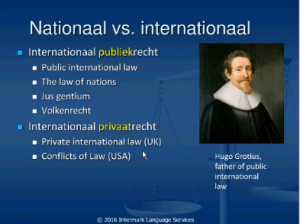 We learned the fundamental differences between legal English in the U.S. The session began with an overview of the court systems of the U.S., U.K., and the Netherlands. Then from the perspective of a civil lawsuit the presentation focused on legal terminology and how it's used in each country. Throughout the discussion of the various legal systems, attendees were on the lookout for false friends between Dutch and English terms, and between U.S. and U.K. terms.
I will leave you with this question: "A Dutchman marries a woman from Sudan in Honduras, and their daughter is born in England. Is this daughter a citizen of the Netherlands, Sudan, Honduras or England?
There was also a place for fun and games, with the session #ATA61GameL10nQuality on Game Localization: Quality Assurance and Technological Developments by the AVD Distinguished Speaker, Carme Mangiron. She talked about AI lip flap adjustment for Cyberpunk 2077 and the Witcher's localizations. This is the future of our craft! She also discussed interactive media such as Black Mirror's Bandersnatch, and the localization difficulty and accessibility issues involved. Let the games begin!
The following was not a game, though it bears the name of one. A great presentation and great idea to create Masterminds at #ATA61Masterminds from the Mentoring Committee.
These are small diverse groups of 6-7 persons each, that will run from February to July. ATA provides training for group leaders through a webinar. Each group will work or focus on a specific topic, and there will be 3-4 topics (or more) offered per year. These groups offer to learn from and with your peers, grow your network, achieve business goals faster, effectively sharing professional resources, and to learn more about ATA. Perfect for advanced translators to up their game to the next level through their peers!
A great fun session to end the conference was #ATA61Motorsports1nt on interpreting in motorsports by Amanda Katsurada. Not just about a regular TT, NASCAR or GP, but also a lawn mower demolition derby. Who knew? Sounds fun to have an assignment in this niche area, but a warning, it can be loud.
I hope that with the help and inspiration of this Tweetstorm I have been able to provide you with a report on this year's virtual annual conference. It was a unique experience that was just as well organized and interesting as the conferences from prior years, but we still hope that we'll all be able to meet again in person in Minneapolis next year!
(Slides published with the presenters' permission)