By Alexandra de Vries
Dear Dutch Language Division colleagues,
Today is International Translation Day, so we wanted to take this opportunity to congratulate everyone on "our" day.
The United Nations chose to proclaim September 30th as International Translation Day because it celebrates the feast of St. Jerome, universally considered to be the patron saint of translators.
Who is St. Jerome?
A priest from North-eastern Italy, St. Jerome is known mostly for his endeavor of translating most of the Bible into Latin from the Greek manuscripts of the New Testament. He also translated parts of the Hebrew Gospel into Greek. He learned Latin in school and was fluent in Greek and Hebrew, which he picked up from his studies and travels. Jerome died near Bethlehem on 30 September, 420. (for this info and more about the United Nations and the role of language professionals, please see: ww.un.org/en/observances/international-translation-day).
As language professionals we all know how important language is. And we are very aware that language is more than simply finding the corresponding words in another language. We also translate concepts, cultural ideas, sentiments and more. So let's take a moment to reflect on how valuable our work is in a world where understanding one another seems to be a bigger challenge than ever before.
And because we all love to procrastinate (what, me? No, never!) when we should be translating, a short quiz with some fun facts on translation:
1. When did the UN declare September 30 as International Translation Day"
2005
2010
2017
2. What document has been translated into the most languages:
The Bible
Harry Potter
The Universal Declaration of Human Rights
3. Who is the best-selling Dutch author in the World?
Dick Bruna
Anne Frank
Arnon Grunberg
4. To promote reading (and book sales) in the Netherlands, the Nederlandsche Uitgeversbond founded Boekenweek, an annual 10-day period dedicated to books, writers and literature. When was the first edition held?
1968
1930
1958
5. What is the most famous Boekenweekgeschenk (the gift that book buyers receive when they spend a certain amount on books)
Oeroeg, by Hella Haasse
Zomerhitte, by Jan Wolkers
Een mooie jonge vrouw, by Tommy Wieringa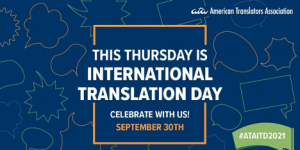 Answers:
#3, 2017 (source:

www.un.org/en/observances/international-translation-day

)
#1, the full Bible has been translated into 704 languages (source:

www.biblica.com/resources/bible-faqs/how-many-different-languages-has-the-bible-been-translated-into/

. Also impressive, the Universal Declaration of Human Rights is available in 524 languages. Harry Potter has 'only' been translated into around 80 languages.
#1, Anne Frank. The first edition of the diary included 3,036 copies. 80 years later more than 30 million copies have been sold with translation into 67 languages (source:

www.annefrank.org/en/anne-frank/diary/publication-diary/

.

#2, 1930. As of https://en.wikipedia.org/wiki/Boekenweek
#1, the 1948 debut novel by Dutch author Hella Haasse, a staple of Dutch reading lists in high school, made into a movie in 1993 (for inspiration, see: www.groene.nl/artikel/de-vijf-beste-volgens-herm-pol)