The Japanese Language Division (JLD) was created to serve as a means of communication among its members, to provide information and services to its members in specific fields of interest related to translation from and into the Japanese language.
Use the menu above to find out more information about our division, upcoming events, and how to get involved with the JLD.
Newsletter
Our newsletter is published biannually. Click a cover to read one of our most recent issues!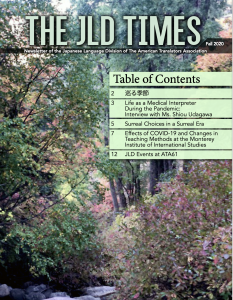 For past issues, click here.
Upcoming Events
ATA61 Virtual Conference  
For more information on official JLD and ATA events, click here. JLD is planning 4 sessions, to from our Distinguished Speaker, Professor Chikako Tsuruta on interpreting for U.S. Presidents, as well as translation and interpretation for the Tokyo Olympics. We also plan to host our annual ATA Certification Workshop and a Deposition Interpretation Workshop II due to popular demand after the successful round 1 at last year's conference.
The division is also hosting our Annual Meeting from 4-5 pm EST on October 18th open to all JLD members, and a JLD Meetup from 7-8 pm EST on October 18th, only open to JLD members registered for the conference.