For a few years, the leadership of the Japanese Language Division has been trying to find ways to encourage feedback regarding topics and type of sessions members want at the annual conference.

Earlier this year, JLD Member Y. Usui volunteered to help tabulate and classify 14 years of data (139 sessions, from 2002 to 2016).

In anticipation of our brainstorming discussion during the JLD Annual Meeting on Friday, October 27th, below is an informal summary of the data tabulated.

We look forward to your questions, comments, and discussion on this data on the Yahoo mailing list, and especially when we brainstorm topics for next years' sessions at the Annual Meeting.



As one may suspect a majority of sessions in the were for translation related topics for professionals at all levels: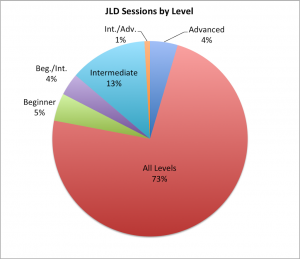 Few intermediate/advanced sessions presented over the years.
Though presented in the past, there have not been many Japanese language-specific sessions related to Philosophy and Religion (1), Professionalism and Ethics (3), Quality Control (2), and Software Engineering (1) for example. Sessions on the Japanese language market or industry trends were non-existent (see below).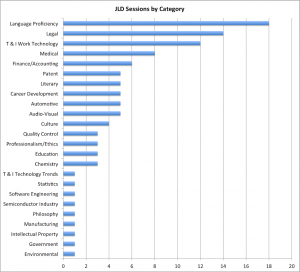 Clearly ATA Accreditation, Medical, Legal, Finance, Work Technology, and Language Proficiency accounted for over 50% of the industry categories, both in translation and interpreting. ATA Accreditation, Language Proficiency, T&I Work Technology (99% translation tools) were covered a majority of years (2002 to 2013).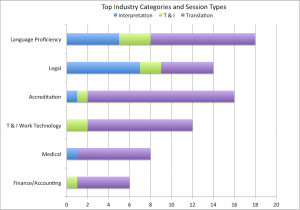 Incidentally, the 12 sessions over the years covering mostly translation-related work technology provided an overview of CAT Tools (4), non-CAT productivity tools (1), terminology management (2), dictionaries (1), and file/document manipulation (3). One innovative session provided an overview of using text-to-speech when revising your work (B. Tompkins, 2004).

Language Proficiency in translation focused on improving comprehension, e.g., dealing with ambiguity in English or Japanese figures of speech, improving (self-)revisions skills, and improving sight translation skills. In interpreting the focus was on sight translation, improving short term memory, and consecutive interpreting. Cross-disciplinary sessions (relevant to both translation and interpreting) included understanding dialects (1) and the basics of kuzushi-ji and hentai-gana, for example. All of these sessions appeared exactly once.

Despite that, many topics were covered as a review of style conventions or a particular subject matter (usually at All levels).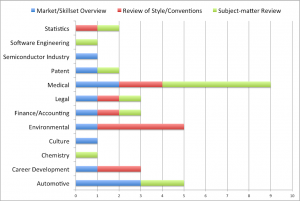 As I mentioned, this isn't a rigorous analysis, but I hope it will give you some idea of the topics we trend toward as the JLD. Tell us what you want to hear more of, better yet give us suggestions on colleagues (including yourself) who can present on these topics.

Hopefully this archive will be kept updated for the Planning Committee and the membership at large.

See you at ATA58.

[updated 10/18/2017 to add date and presenter for text to speech session, add clarity, and correct some grammatical errors.]