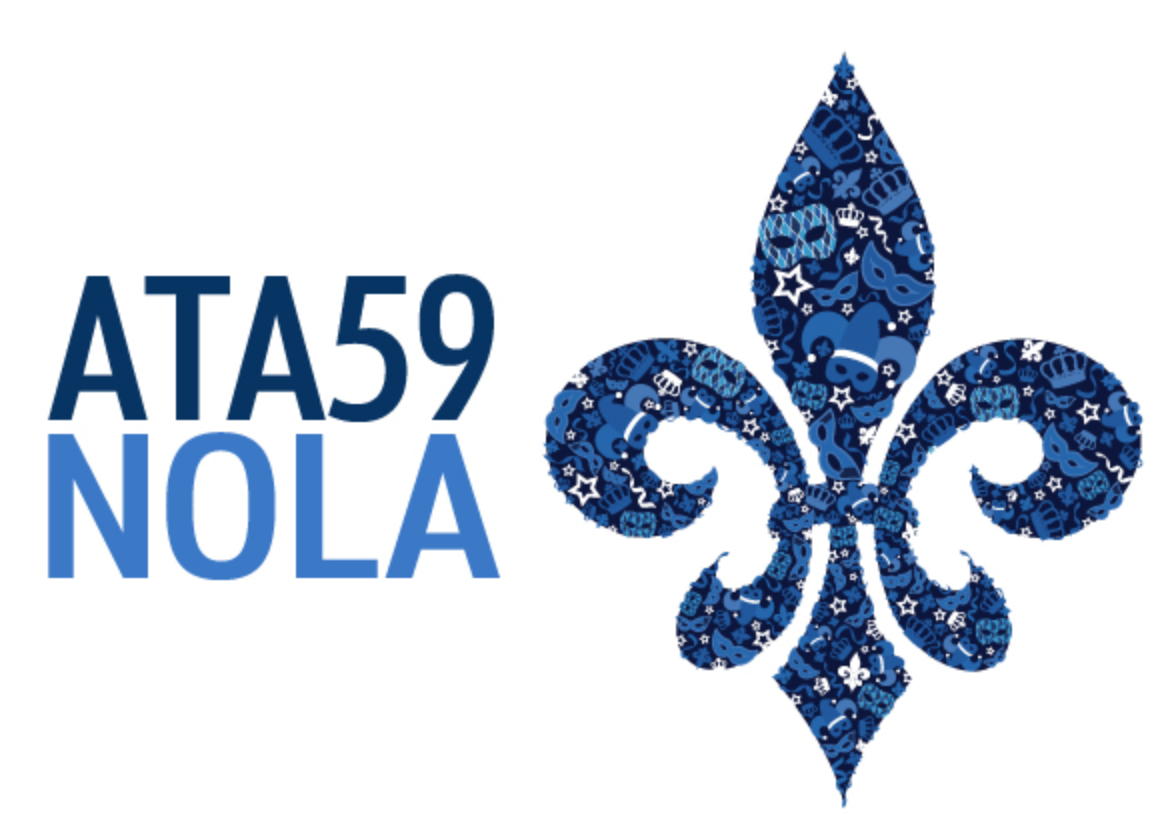 We have been collecting materials from the law-related sessions at ATA59 in New Orleans and are happy to announce that many of the slides are now posted here! We hope this will be useful to you, either to refresh yourself and supplement your notes on sessions you attended or to learn something new from sessions you weren't able to attend.
Below we list the sessions that we have slides for, including the brief description of the session from the conference program and the speakers' bios. You may also find supplemental materials or links. Please feel free to add comments or additional related links or articles in the comment section.
Legal Issues and Reporting Requirements for Staff Health Care Interpreters (Elena Morrow)
Please read the separate blog post on this session here by Elena Morrow
The legal side of health care interpreting is getting more complex every year. California's legislators pass new laws related to interpreting in health care with regular frequency. This session will explore the role of a staff health care interpreter as an integral part of the care team and a mandated reporter. Specific examples will include interpreting for consents, signing forms as a witness, reporting violations, and acting as an advocate. This session will also focus on the changes hospital administrators have to implement to accommodate new legal provisions. The discussion will include examples from the medical interpreting services operation at University of California Davis Health.
Elena Morrow is currently working on her master's degree in public policy and administration at Sacramento State. She has over 20 years of experience working as an interpreter, translator, grader, trainer, and administrator. She manages medical interpreting services at University of California Davis Health System. She has national certifications as a translator and medical interpreter. She received the "Trainer of the Year" award in 2010 from the California Healthcare Interpreting Association (CHIA). She gives presentations to the nursing programs in the Sacramento area, conducts trainings for CHIA, and serves as a grader for ATA's Certification Program. She was recently appointed to serve on the Sacramento County Voter Registration and Elections Language Accessibility Advisory Committee.
Whipping Portuguese-English Translations into Shape (Timothy Friese)
Please read the separate blog post on this session here by Liz Herron-Sweet
Brazil and the U.S. are the economic titans of the Western Hemisphere, but all too often English translations from Portuguese fall into the traps of false friends and the two countries' very different understandings of good style and sentence structure. This session will focus on real-world examples and suggested solutions for handling problems of terminology and sentence structure to produce gleaming English prose in the fields of law and finance. 
Timothy Friese is a legal translator and the owner of Calamus Translations, where he translates into his native English from Arabic, French, Hebrew, Portuguese, and Spanish. His work centers on legal and related documents for international business in oil and gas, resource extraction, agriculture, and ecology. He has also worked as an Arabic and English teacher at the University of Michigan and the Universidad Nacional Autónoma de México. He runs the Chicago Arabic Book Club.
Patents: From Draft to Grant, and Tackling Terminological Nightmares (Nadine A. Edwards, Nicholas Hartmann CT, Heike Holthaus, Karen Tkaczyk CT)
Please read the separate blog post on this session here by Heike Holthaus
The prerequisites for every translation include understanding the subject matter, knowing the conventions of the source and target languages, and how to overcome linguistic challenges specific to the field. Patent translations are no exception. The first part of this session will provide attendees with an understanding of what a patent is and the patent process—from drafting to grant and beyond. For the second part, the speakers will discuss how to deal with neologisms, shoptalk, and other obscure technical terms.
Nadine A. Edwards is a patent specialist and Japanese>English translator. She has been a full-time translator since 2010. She began her career as a patent specialist for a large Japanese electronics manufacturer conducting patent searches, filing for patents, and performing quality assurance for the company's patent applications translated into English. She uses her background in computer science to translate all types of patent documentation and to create technical copy related to computer vision, optics, semiconductors, wireless communication, and energy storage.
Nicholas Hartmann is an independent technical and scientific translator specializing in patents and related documents. His clients include leading industrial corporations and law firms in the U.S. and Europe. He has served ATA as president, president-elect and conference organizer, secretary, director, and administrator of ATA's (original) Science and Technology Division. He has also chaired and been a member of numerous ATA committees. He has attended, and often presented at, every ATA Annual Conference since 1984. He is an ATA-certified French>English, German>English, and Italian>English translator.
Heike Holthaus is a freelance translator specializing in patents, patent litigation documents, and technical texts. From the time she received her vocational degree as a forwarding agent until starting her career as a translator, she was the owner of an artisan bakery and a board member of an import start-up. She received her certificate in translation from World Language Services, Dublin, in 2012. In 2016, she joined Academia Webinars, a German professional development provider, as a presenter on patent translation.
Karen M. Tkaczyk is the ATA secretary. She works as a French>English freelance translator. Her translation work is highly specialized, being entirely focused on chemistry and its industrial applications. She has an MChem in chemistry with French from the University of Manchester, as a well as a diploma in French and a PhD in organic chemistry from the University of Cambridge. She worked in the pharmaceutical industry in Europe. After relocating to the U.S. in 1999, she worked in pharmaceuticals and cosmetics. She established her translation practice in 2005.
Subtle Flavors of the Law: Filler Words in German Legal Texts (Michael Larrass, Sabine Seiler CT)
Please read the separate blog post on this session here by Heike Holthaus
Legal translators need to be aware of the argumentative, persuasive force conveyed by the transition or filler words that structure and enliven a legal text. This is especially important when the translated document is for a judge. Filler words are more important than they seem at first and require more scrutiny than just always using the first translation listed in the dictionary. In this session, the speakers will look at examples and effective translations that convey the full flavor of the source text.
Michael Larrass studied modern languages at universities in Germany, Canada, and France. He received his PhD at the University of Heidelberg in 1981. He then taught at business schools and institutes in France and Germany before starting his career as a translator by translating some 20 books on alternative medicine, self-development, and management for various German publishers. He moved to Canada in 1999, where he first translated for various federal departments before founding his own company and working as its multilingual reviser. Since 2010, He has been training revisers to keep abreast of the growing diversification of the company's portfolio.
Sabine H. Seiler grew up in Germany and the U.S. and has been translating and editing in German and English for more than 20 years. She has a PhD in English from the University at Albany-State University of New York, where she has also taught English literature and writing courses. Her expertise is in marketing, legal, and business texts, ranging from general to technical material.
The General Data Protection Regulation in the European Union: How It Applies to Freelance Translators Worldwide (Monique Longton)
A review of this session by Heike Holthaus has been posted on the Colorado Translators Association website.
Monique has also posted two articles on the topic of privacy practices for translators on LinkedIn.
The European Union General Data Protection Regulation (GDPR) went into effect on May 25, 2018. The GDPR aims to protect the personal data of EU residents. In this session, a lawyer-linguist and a legal freelance translator will join forces to explain key points of the regulation and how it applies to freelance translators. If you have a website to market your services in the EU and/or participate in translation projects that include personal data from EU residents and companies, the speakers will help you understand your obligations and provide solutions to handle GDPR translation projects successfully.
Monique Longton has been an English>French, Swedish>French, and Danish>French freelance translator for over 11 years, specializing in legal, financial, and accounting translation. She has a master's degree in translation and a post-college degree in economics. During 2017 and 2018, she acquired expertise in the General Data Protection Regulation (GDPR) through working with European clients who entrusted her with the translation of legal analyses, data protection impact assessments, and services agreements related to the GDPR.
Patent Translation for Liberal Arts Majors (Evelyn Garland CT, Aaron Hebenstreit)
An overview of this session have been posted to the Science & Technology Division website and a review was posted to the Slavic Languages Division website.
Is a background in science a prerequisite for becoming a good patent translator? The speakers, both science majors, will discuss their experiences working with translators educated in the liberal arts to help them deliver high-quality patent translations. Drawing on their experiences in translating patents for top international patent law firms and the World Intellectual Property Organization, as well as in interpreting for high-stakes patent litigation, the speakers will also share advice for skilled translators who wish to translate patents. Some examples involve source text in Chinese, but those who don't understand Chinese may still benefit from the ideas presented in this session.
Evelyn Yang Garland is an ATA-certified translator (English<>Chinese), court-certified interpreter, and conference interpreter. She has been a trusted translator and interpreter of top IP law firms in the U.S. for patent translation and litigation. Her other clients include the U.S. Department of State, the IMF, OECD, universities, and private companies. She owns Acta Chinese Language Services, a firm that has translated presidential writings and specializes in high-stake translations. Evelyn holds a bachelor's degree in life science and master's degrees in health science and conference interpreting.
Aaron Hebenstreit is a contracted translator for the United Nations, World Intellectual Property Organization, and International Monetary Fund. He also works as a court-certified and conference interpreter with law firms and companies in the public and private sectors. He works with Chinese, French, and German, and holds a BS in Mechanical Engineering as well as an MA in Translation from the Middlebury Institute of International Studies at Monterey. He also teaches Chinese>English translation at New York University and training institutes in China. He currently serves on the Board of the New York Circle of Translators.
German Accounting Standard No. 20 and Non-Financial Reporting (Robin Bonthrone)
Please find the slides on the German Language Division's website.
You're probably familiar with the term "consolidated financial statements" (Konzernabschluss). But what about "consolidated non-financial statements" (nichtfinanzielle Konzernerklärungen), "consolidated corporate governance statements" (Konzernerklärungen zur Unternehmensführung), "consolidated non-financial reports" (nichtfinanzielle Konzernberichte), or "country-by-country reporting" (länderbezogene Berichterstattung)? The speaker will begin by outlining the updated European legal framework for corporate non-financial reporting, including obligations under the revised Corporate Social Responsibility (CSR) Directive and the Transparency Directive. He will then address the implementation of these requirements in Germany, specifically the CSR-related amendments to German Accounting Standard (GAS) No. 20 Konzernlagebericht/Group Management Report, with a particular focus on the new bilingual terminology of non-financial reporting.
Robin Bonthrone, CT, MITI is an ATA-certified German-to-English translator. He has been a full-time German>English financial and legal translator for almost 30 years, specializing in financial accounting and reporting; audit, assurance, and advisory; tax law; financial legislation; and financial sector regulation and supervision. He translates the German Accounting Standards for the Accounting Standards Committee of Germany, and was joint coordinator of the German version of the International Financial Reporting Standards for several years. He is an experienced financial translation trainer and lecturer at translation conferences and workshops in Europe and the U.S. He is currently co-chair of the International Federation of Translators' International Organization for Standardization Committee.
Sexual Harassment: Terms You Need to Know (Lorena Pike)
In an era where a national conversation about the systemic problem of sexual harassment has emerged, litigation of the claims filed by victims could be increasing in the next few years. Interpreters and translators alike should be aware of the procedures and terminology involved. This session will cover: 1) an overview of what's considered sexual harassment under federal law, 2) the concept of discrimination in the workplace, 3) prohibited employment policies/practices, 4) an individual's rights to file a discrimination claim with the U.S. Equal Employment Opportunity Commission, and 5) the most common terms used in discrimination claims/lawsuits with emphasis on sexual harassment.
Lorena Pike, a state-certified (Nevada and California) court interpreter, is the interpreter coordinator at the Santa Barbara Superior Court, Santa Maria Division in California. She is also an English>Spanish translator specializing in law, accounting, finance, and business. She has a BS in accounting and postgraduate certificates in taxes, translation, and interpreting. She has an MA in Spanish from the University of Nevada, Las Vegas, where she taught Spanish (2009-2013). In addition to ATA conferences, she has presented at the conferences of the National Association of Judiciary Interpreters and Translators and taught professional development courses and workshops in Nevada and California.
Using Plain Legal English Principles for Better Writing (Lisa Hew)
This session will serve as a reminder to wordsmiths about the pitfalls of sesquipedalianism and focus on the goal of producing concise, meaningful written English. The speaker will introduce Plain Legal English principles, offer suggestions about how to improve one's translation, and propose strategies for client education. Examples taken from Japanese source texts will be presented to demonstrate how easy it is to fall into translation traps and how they can be avoided by applying Plain Legal English concepts. The speaker hopes translators of any language will find this session useful for improving their English writing skills.
Lisa Hew is a Japanese>English translator specializing in law and marketing. She has been translating for more than 15 years, including eight years at a Japanese law firm and three years at a Japanese fashion house. She started freelancing in 2011 and established Belle Translation Japan, Ltd. in 2014. She has given presentations at the meetings of the Japan Association of Translators and the Japan Translation Federation.
Spanish>English Interpreting in Juvenile Delinquency and Dependency Proceedings (Carol Palacio)
Carol provided handouts and materials related to her session, which are attached here.
This session will provide attendees with an overview of both delinquency and dependency proceedings through the use of flow charts and practical exercises. After a short PowerPoint presentation, attendees will have the opportunity to participate in a practical exercise in which they interpret a sample delinquency and dependency proceeding script. An extensive Spanish>English juvenile justice glossary will be included as a handout for attendees to take with them.
Carol Palacio has been a Spanish>English California state-certified court interpreter since 1999. She has worked as a court interpreter for the superior courts of several San Francisco Bay Area counties. An extensive part of her work involves juvenile delinquency and dependency matters. She is currently a full-time staff interpreter for San Mateo County Superior Court and teaches consecutive interpreting at San Francisco State University. She has an MA in Spanish from California State University, Sacramento, a certificate in court interpreting from San Francisco State University, and a teaching certificate in Spanish and math from Notre Dame de Namur University.
Creating the Lawyer-Linguist: 30 Years of Experience in Central Europe (Franz Heidinger)
Today's dynamic legal market is in dire need of professionals capable of minimizing discrepancies in the equivalence and quality of written texts and the spoken word. A new interdisciplinary approach to Legal English would provide the basis for "hybrid" lawyer-linguists who have a comprehensive background in both fields. Such an approach would include a systematic curriculum with a methodology based on comparative law for linguists. It would also include linguistic education for lawyers, allowing experts to strengthen their expertise of both fields and become highly skilled lawyer-linguists in Anglo-American Legal English. These professionals could then train others. The speaker will discuss how this curriculum could be created.
Franz J. Heidinger has degrees in law and language from the University of Graz (Austria) and an LL.M. from the University of Virginia. In his 30 years of teaching at various universities, he has taught more than 12,000 lawyers and linguists. He is an expert for the Anglo-American legal system and a board member of the Austrian Association of Certified Court Interpreters. He is vice president of the European Legal English Teachers Association. He has published several books and articles on law and language.
Language Services Providers: Servicing the Legal Professions (Franz Heidinger)
How can language services providers work successfully with legal professionals? Qualifications in both language proficiency and legal knowledge pave the road to success for language services providers. The speaker will discuss conclusions from his experience as a court-appointed and certified interpreter, lawyer, university lecturer, and writer of books in the field of English legal language. He will discuss methods for broadening and deepening qualifications. Particular attention will be paid to the applied comparative law approach as a means for legal language proficiency.
Franz J. Heidinger has degrees in law and language from the University of Graz (Austria) and an LL.M. from the University of Virginia. In his 30 years of teaching at various universities, he has taught more than 12,000 lawyers and linguists. He is an expert for the Anglo-American legal system and a board member of the Austrian Association of Certified Court Interpreters. He is vice president of the European Legal English Teachers Association. He has published several books and articles on law and language.
From the Editor's Desk: Challenges in English>Chinese Contract Translation (Liming Pals CT, Tianlu Redmon)
Chinese legal translators frequently work on contracts. As more Chinese companies seek to develop their businesses in the U.S., the stakes are especially high for contracts drafted by American attorneys and translated into Chinese. Two editors will share the common challenges they have observed in English>Chinese contract translation to help attendees grasp key terminology, avoid common pitfalls, parse complex contract language, and understand how differences between the U.S. and Chinese legal systems may affect a translation. Examples will be presented in English and Chinese.
Liming Pals is an ATA-certified English>Chinese translator. She has been working as a legal translator for more than 10 years. She studied law for seven years in China and has a master's degree in international law.
Tianlu Redmon is an ATA-certified English>Chinese translator, Texas Master Court Interpreter for Mandarin, and conference interpreter. She specializes in legal and business interpretation and translation. She has worked as an editor on projects from translation agencies as well as her direct clients. She enjoys translating, comparing notes with colleagues, and geeking out over grammar and word etymology. When not interpreting or translating, Tianlu teaches Mandarin to company executives and young professionals.
Team Interpreting for Trials (Thomas Johnston, Roxane King)
Certified judicial interpreters need to understand the extensive process for executing quality interpreting services during a trial. A rounded and defined approach to a trial is geared toward driving quality, acceleration, discipline, efficiency, and transparency. If executed properly, the interpreter becomes a "ghost" in the courtroom while protecting the record by providing the process, controls, and delivery excellence required by our profession. Topics in this session will include initiation, pre-trial definition, trial set up, trial execution, and post trial support.
Thomas Johnston has more than 15 years of interpreting experience. He is certified as a judiciary interpreter by the Supreme Court of Ohio. He became a nationally certified health care interpreter in 2011, and is currently working toward his federal court interpreter certification. He is also an English as a second language instructor. He worked as an educational consultant for a large U.S. investment firm, utilizing his bilingual skills to train Spanish- and English-speaking investors. He has designed and conducted training sessions for interpreters and for legal, medical, educational, and social services providers who use interpreting services.
Roxane J. King is a certified Spanish judicial interpreter for the California and Ohio state courts. She has a degree in interpreting from the Southern California School of Interpretation in Santa Fe Springs, California. In addition to ATA, she is a member of the Community and Court Interpreters of Ohio and the National Association of Judiciary Interpreters and Translators.
****
In addition, the following legal T&I sessions were recorded for the conference virtual sessions and are available here.
Assorting, Understanding and Translating Contract Clauses (Paula Arturo)
Contract translation is one of the most popular and lucrative areas of legal translation. As businesses seek to expand globally, the demand for contract translation is on the rise, making this a profitable and challenging field for legal translators. In this session, attendees will learn how to dissect contract clauses to better understand their meaning and intended legal effect in order to apply categories of language that result in accurate and nuanced legal translations.
Paula Arturo is a Lawyer, Translator, and former Law Professor. She is a co-creator of Translating Lawyers, a boutique firm specializing in legal translation by lawyers for lawyers. Throughout her seventeen-year career, she has translated several law books and publications in major international journals for high-profile authors, including the works of Nobel Prize Laureates and renowned jurists. She is currently serving a two-year term as Administrator of the American Translators Association's Literary Division, Co-head of Legal Affairs at the International Association of Professional Translators and Interpreters and member of the Public Policies Forum of the Supreme Court of Argentina.
Being a Faithful Cheat! Betraying Source Texts to Provide Better Legal Translations (Claudio Cambon)
Legal translations can require a degree of faithfulness that risks making translators too beholden to the source text at the expense of their craft. Yet, translators often have more latitude in these situations than they may realize. This session will help translators stray from what they initially think is "correct" to find something that is in the end more accurate and ultimately well written. The source examples used will all be in Italian, but as the focus will be on problem solving in English, anyone translating from a Romance language into English is encouraged to attend.
Claudio Cambon has been a translator from Italian, French, German, and Spanish into English for over 15 years. He became an ATA-certified Italian>English translator in 2016. He works on a wide range of texts, including legal, financial, administrative, literary, art history, food, and fashion. He is a 1990 graduate of Yale University.
The Basics of Interpreting at Civil Depositions (Yvette Citizen)
Civil depositions provide a great source of work opportunities for freelancing judicial interpreters. Among other things, this session will cover the reasons for civil depositions, the format and protocol followed at civil depositions, and examples of civil cases that usually involve civil depositions. Legal terminology interpreters are likely to encounter during a civil deposition, as well as potential ethical challenges and professional dilemmas, will also be covered. Attendees will have the opportunity to review examples of witness testimony during civil depositions and will receive a glossary of civil legal terminology.
Yvette Citizen is a federally certified court interpreter and a certified medical interpreter. She served as a staff interpreter for the U.S. District Court in Tucson from 2003 to 2010. Currently, she is a freelance translator and interpreter and works for numerous clients in the legal, medical, and education fields, including the U.S. Department of State. She has been a faculty member of the University of Arizona's Agnese Haury Institute for 15 years. She has a master's degree in bilingual and multicultural education.
Exactly Who Is Responsible for Paying Your Fees? (Cristina Helmerichs, Steve Mines)
This session will focus on how to negotiate payment terms to avoid the "client hasn't paid me yet" scenario. The strategies discussed will be of use to freelance interpreters/translators who have a portfolio of one-time or occasional clients. ATA's Model Contract will be analyzed to see how it can be adapted. The state of contract law in differing jurisdictions regarding the hiring of experts and responsibility for payment will also be discussed.
Cristina Helmerichs is an ATA director and a member of ATA's Interpretation Policy Advisory Committee. She has more than 30 years of interpreting and translation experience as an English>Spanish conference and judicial interpreter. She is a federally certified interpreter and is certified by the National Association of Judiciary Interpreters and Translators (NAJIT). She has been a consultant to the Federal Court Interpreters Certification Program and the National Center for State Courts Interpreting Training Program. She is also an interpreter trainer. She serves on the Texas Association of Judiciary Interpreters and Translators' Education Committee. She was ATA's and NAJIT's technical adviser to the European Union's Grotius II Project.
Steven Mines is an experienced legal and conference interpreter, legal translator, and a federally certified court interpreter. His working languages are English, Spanish, French, and Portuguese. He is a past administrator of ATA's Interpreters Division and served on the board of directors of the National Association of Judiciary Interpreters and Translators. He is a member of the International Association of Conference Interpreters (AIIC) and the American Association of Language Specialists (TAALS). Currently, he serves on AIIC's Remote Interpreting Working Group and TAALS' Remote Interpreting Working Group.
Compromissory Language: Linguistic Issues in International Arbitration (Alexandra McMillan)
Arbitration has been a means of resolving disputes since the beginning of time, changing as the world changed and surviving deep culture and social transformations. The complexity of modern business has given it even stronger impetus as a flexible, effective, and reliable resource. Arbitration language has changed accordingly, and this session will explore the peculiar words and expressions used and the linguistic issues in this highly specialized field. Particular attention will be paid to maritime arbitration, a fascinating subject that presents tough challenges for legal translators, but one that's also increasingly in demand from clients.
Alexandra Mc Millan worked as a lawyer for about seven years until 2001, and is now a legal translator with over 17 years of experience. She lives in Genoa, a port town in Italy, and has had many opportunities to translate all types of documents related to maritime law and arbitration. She also holds seminars accredited by the Genoa Bar Association, including ones focused on maritime and shipping law. She teaches postgraduate level courses in legal English translation from Italian into English within the online Masters in Legal Translation Program offered by the University of Genoa.