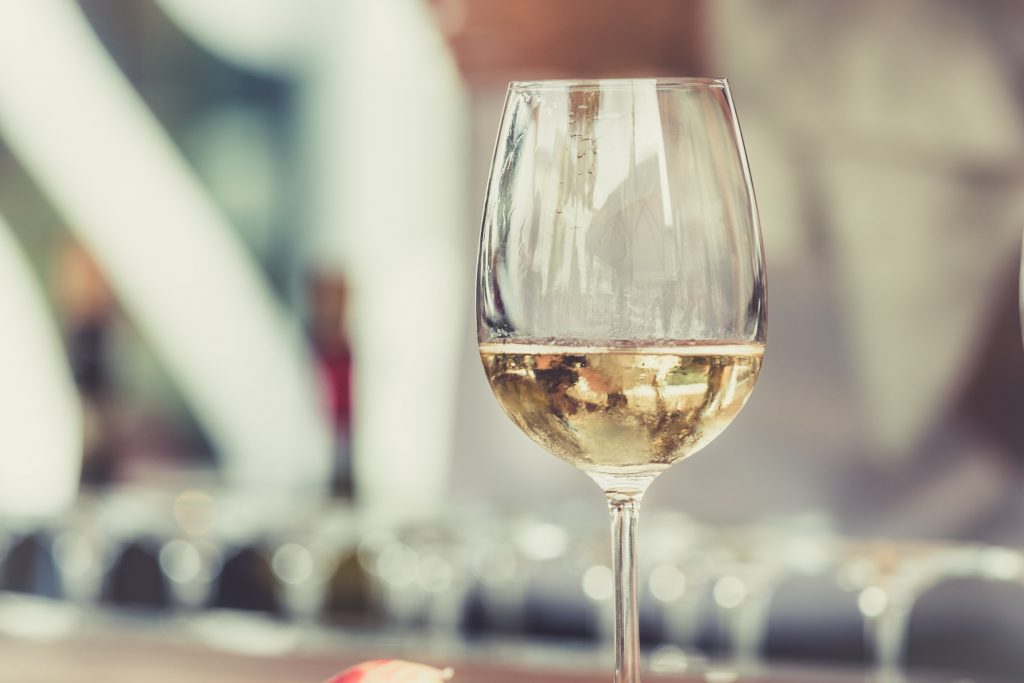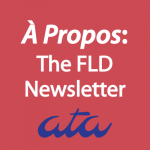 To make our Continuing Education Series Podcast more accessible and searchable for FLD members and the general public, we are now offering transcriptions of our episodes right here on À Propos. Many thanks to our volunteer transcriptionists, who are credited at the bottom of each transcription. If you're interested in helping us transcribe podcast episodes, email divisionFLD [at] atanet [dot] org.
HOW TO LISTEN TO THE ORIGINAL EPISODE
SOUNDCLOUD: You can listen to or download Episode 21 and all previous episodes on Soundcloud here.
ITUNES: This episode and all previous episodes are available on iTunes here. You can subscribe or listen online. Like what you hear? Rate us and review us! It really helps get the word out.
Episode 20: Interview with Ruth Simpson
Andie Ho: This is Andie Ho, host of the continuing education series, a podcast produced for the members of the French Language Division of the American Translators Association, offering educational content about the craft of French-to-English and English-to-French translation and the division.
A brief comment here, my dog, Huckleberry, makes a cameo in this episode with his signature howl, so if you hear some background noise, that's him saying "hi," to everyone.
Today we're joined by Ruth Simpson, a freelance French-to-English translator since 2008. Ruth is based in France, currently, and she specializes in beauty and cosmetics and wine and spirits. She has a diploma in wine and spirits, which I'm very excited to talk about, is a qualified member of ITI, with certified translator status, and, apparently, is a keen musician, as well. Very multitalented. Welcome today, Ruth.
Ruth Simpson: Thank you so much! Multitalented, I don't know. I certainly like to try lots of new things. Um, so, yeah, that's… I love playing all different instruments. I've got ukuleles, I've got a violin, and I love singing, as well, so, yeah, my husband would probably say not so multitalented, just "multi-interested."
AH: Well, isn't that the prototypical translator? Interested in a little bit of everything?
RS: Yeah, yeah probably. That's true, yeah.
AH: So, let's dive right in. The main thing I wanted personally, selfishly, to talk to you about today is your specialization in wine. Now, I translate for the food industry, but I specifically do not translate wine, because it is, as I'm sure you're going to tell me, is its own deal.
RS: Um, right.
AH: I'm sure it's a specialization, a dream specialization for many people. How did you get into it?
RS: Well, both of my specializations, cosmetics and wine, both could seem like dream specializations to a lot of people, but they really do all involve urgent translations, demanding clients, tricky words, just like everyone else's specialist fields. So, wine, and cosmetics also, come under the variate umbrella of what I like to call whipped cream or fluff translations, um, they're very much in the nonvital category when you compare them with, like, the important work done by medical translators or legal translators, and that has the benefit of taking the pressure off mentally, but you'd be surprised, actually, how many cosmetic brands take lipstick as seriously as they do a drug trial, as the pharmaceutical industry would take a drug trial.
Um, well, how did I first get into wine translation? I was working in Paris doing English teaching. I was actually working at L'Oréal's luxury product division, which is how I got into cosmetics translation, and my boyfriend at the time, who is now my husband, he was also working in Paris in advertising, but he had a family wine estate in Chablis, and he knew that at some point in the future he was going to take on the wine domain, the wine estate that belonged to his family. But we were still living in Paris at that point, so the Burgundy countryside was pretty far away from our thoughts. One thing, he'd decided he'd had enough of the métro-boulot-dodo lifestyle, and he decided to start a year-long training course in a specialist college near Chablis, and so, I went down to three days a week in Paris, and two days a week in Chablis, and I created my business and began contacting agencies, and, from that point, I was working just in cosmetics.
I eventually took an interest in wine when I moved here more permanently in 2009, when I had my first child, and I was struggling to keep up with conversations at the dinner table. My husband's family and the friends we'd made here got to talking about wine, and I couldn't follow along. I was a bit struggling with the vocabulary, and I didn't really understand what was going on. I'd always enjoyed drinking it, like lots of people, but I didn't quite know how to get to grips with the technical and more descriptive vocabulary. That was in French, let alone in English, so in neither language. I researched some qualifications in the field and I wanted to do the qualification in English, so I found the WSET, which is the Wine and Spirit Education Trust. Um, so, that's how I first got into specializing in wine was through my family connection with my husband and my qualifications with the WSET.
AH: Okay, well, so that kind of answers my next question about which came first, the chicken or the egg, the wine or the translation.
RS: Right. The cosmetics definitely came first, because that was, for me, the most obvious choice, having spent… I spent four years working in the offices of L'Oréal's luxury products division, so I was working with marketers and people… people… coming into daily contact with the English of the beauty industry. And so, that really gave me a big jumping off point for setting up as a freelance translator in that world.
AH: So, tell me more about this wine and spirits diploma that you obtained. How did you find out about this diploma, what did it involve? What kind of people take this diploma, and what all did you learn?
RS: Um, well, I learned so much. How I got into was, when I contacted… I contacted the WSET and I explained my situation. I'm living in Chablis, starting to become a bit familiar with the world of wine, and they suggested that I start at their Level 2, which is what they call the intermediate level. The intermediate level is a short, three-day course in London, and that… it was very quick to do; it's quite accessible, then I was encouraged to move on to the Level 3, the advanced course, which is five days, in London again, and then, after that—this is about a year-long time span between the two—I was encouraged to do the Level 4 diploma, which is a very, very different beast. The diploma is two years long, well, the one I did was two years, and it involved four week-long classroom sessions split up over the two years, and a dissertation on a subject, and lots and lots of three-hour exams, and tastings, as well. So, it was very, very intense for those two years, and my son was only, I think, eighteen months when I started, so that was a very full-on time, as well as translating full-time by then. Um, the people doing the course with me were all wine enthusiasts, obviously. Lots of them were from Majestic, which is a UK-based wine merchant. Some of them were retirees, they just wanted to learn more. There was a journalist, there was an Italian winemaker there, too, and people working for other wine merchants. So, lots and lots of different backgrounds. But not one single translator except me.
AH: So, actually, I was going to ask, um, did that help with any networking? I mean, did any of your classmates end up, you know, being sources of work for you?
RS: Yeah, that's a good question. Uh, it could have been, couldn't it? But it actually wasn't, no. I didn't… I kept in touch with, I would think, three or four people from the course, one, especially, who came to visit me in Chablis, and we're good friends, but, uh, actually, no work came from that initial training period. But after that it was a different story because, um… Shall I go on to say what I developed after that?
AH: Please.
RS: So, I developed some training courses for different associations. It actually started out as a tasting session at the end of a Wordfast conference. I did an hour of a brief A to Z of the year in the vineyard, then some tasting exercises for the people, just as a fun end to one of the days of training with Wordfast, and that was picked up by another association, the MET—Mediterranean Editors and Translators Association—who asked me to develop it into a sort of half-day workshop, which I did, and then ITI, the… another association, picked up on that, and afterwards it developed into a full day, so all of that, um, just from a very short, hour-long, fun, tasting session, it developed into quite a serious few rounds of specialist wine translation training for other translators, and that did sort of establish me as a specialist wine translator, and then I started getting work, yes, references from other translators and people in the wine business who noticed that I was offering those training courses.
AH: Okay, so indirectly then.
RS: Um, yeah, indirectly. Nobody actually, at the course, said, oh, I want you to translate something that I've been asked to do, but certainly, as a result, yeah.
AH: All right. I just want to point out to our listeners that this is networking at its finest. It's not always about direct connections, but about one thing leading to another, so…
RS: Absolutely. Yeah, and in those training courses that I gave, I was often asked, "Yes, but how do we get into wine translation," and I've probably done five or six sessions of training, including cosmetics, as well. I also do a cosmetics training course for other translators, and, at the end, or in feedback, people will often say, "Well, how do I do it, though? How do I get into it?" It's so different for everybody. All I can do is say what I did and how it worked for me, and that's the only advice I can give, because I can't give you a list of people to contact, obviously. Um, so, that's… It's sometimes quite frustrating because I really want to help people, but I don't quite know how to go about doing that, other than telling them to look for themselves.
AH: Yeah, there's not a single pathway to success in freelancing, which is both wonderful and devastating, I find [laughter].
RS: Yes! That's true! Yeah, and actually, the very best client that I've ever had is a publishing house which led to six books, which is a whole other story, but I met at a party, I met someone at a party, who ended up being my very best client, so, it's a strange world. [laughter]
AH: All right, I'm just writing this down. If I want six book deals, I should go to parties and drink wine.
RS: That's right! Yes! Six books [laughter] That's the exact advice I would give. Yes, six book deals. Go to a party. And talk! Talk to people. But that is a good piece of advice. Always talk to people about what you do because you never know when it's going to be really, really useful.
AH: Absolutely. That's a really good point, yeah, always, I always try to drop in conversation what I do, just to plant seeds.
RS: Yeah, absolutely!
AH: So, back to your courses, um, everybody thinks about the wine tasting aspect of learning about wine, but did you learn about technical aspects? What else did you learn? It couldn't have all been fun and games, or we'd all be doing it, right?
RS: Oh, no. No, it really wasn't fun and games. And, especially, it was quite a convivial atmosphere, and we were there for a week, and we were all in London, and we did sort of have a few evenings out, so I can tell you that tasting vodka at 9:00 a.m. on a hangover is really not for the fainthearted. [laughter] But, uh, that wasn't a particularly technical session, but there were very, very technical sessions. Um, it covered viticulture, so, all about growing grapes, how grapes are grown, how to prune a vine. Or in different places they have different pruning techniques, so that can be quite a struggle to remember all the different places and all the different pruning techniques. So, here in Chablis we have a pruning technique called the Guyot, which is just one cane or two canes with a double Guyot, and in a place, for example, such as Beaujolais, they have another form of pruning, which is called gobelet, which is more like, the vines are grown like a bush, rather than like a single cane, so all of that technical aspect has to be covered. And that's just in France, the differences there. And the course covered the whole world, so there were more than a few different pruning techniques to remember. Then you've got the chemistry of vinification, of fermentation, all of that, so you have your history and your geography of viticulture; you've got your chemistry in vinification, and then your creative writing in the tasting, tasting notes… how to write an objective tasting note, which is quite difficult at first because, as you can imagine, there is a big difference between, "Oh this wine tastes great," and "This wine is high in acid, low in alcohol," etc., etc. You really have to learn how to do an objective tasting note. And then, all the vocabulary to do with marketing and how to sell a wine, as well, and the food pairing, so there's a lot, a lot, a lot to learn.
AH: Okay, I'm starting to see the similarities between translating wine and translating cosmetics because it seems to me that both seem very light, and like a daily item we can all relate to, but can be surprisingly technical, as well. But then, there's still the transcreation/creative aspect.
RS: Absolutely. That's so right, and it actually has quite a lot of cross-over, especially in terms of, I mean, very specifically in terms of when you're writing a tasting note and describing aromas, and you're describing the perfume, it's so similar. There's a lot of cross-over there. But, absolutely, in cosmetics you've got the chemistry part as well, and the medical, almost medical side to it, if you're dealing with the cosmeticovigilance, the people working on side effects of cosmetics, that can be very, very chemistry based, just like vinification, and yeah. So, there's lots of cross-over there.
AH: So, what do you find to be some of the hidden challenges of translating wine, then? Is it the creative aspect, or the technical aspect, or something else?
RS: I think that depends on the translator. For me, it's not so much the creative writing part, because I love a bit of whipped-cream, as I said, fluff translation. I love that. For me, it's really knowing your stuff. So, when you're translating wine, you really have to have a full grasp of the whole process. I've got a great example for you. I had a text, I have texts, several, regularly, in French, that say things like "Le vin est ensuite fermenté dans les fûts ou dans les cuves," which can seem to be quite a straightforward sentence. But when you look at it, you think, they're saying that the wine is fermented. You don't ferment wine unless it's the second refermentation. You ferment juice, or must. So, you have to know that, at this point in the production process that you're writing about, this is when you're dealing with juice, and not proper wine, so you then… I always flag this up, and I always say, look, this is a problem, because we're not fermenting wine, we're fermenting juice, and they regularly come back to me and say, "Oh yeah, no, you're absolutely right. We're going to change the French" because it's wrong. So this is when the original source text is not written by the producer, obviously, it's written by a communication agency, or a journalist or some other nonspecialist, not by a wine journalist, I'd like to think that they never would write something like that, but definitely some kind of communication agency writing things like that that don't seem to be wrong when you read them, but then when you know the process, they are wrong, and you really have to flag it up, and that just creates immediate added value. As a translator you're very valuable because you can improve the source, as well.
AH: All right, you are validating my decision not to translate wine, because, clearly, I don't even know what I don't know. [laughter]. I would never have picked up on juice versus wine. Wow.
RS: Well, I mean, when you've seen it once, and you've realized it once, then after that it's very easy. And, you know, there aren't a hundred examples of that. I'm not constantly finding errors in people's texts, but there's actually another challenge I could talk about, which is knowing when not to translate. Um, there are some words in the world of wine which have to stay in the source language quite frequently, and that's often the case when you're dealing with French. You've got words like terroir, which is the whole environment around the vineyard, not just the land, the soil, but also the weather, the exposure, the slope, which direction the slope is facing, all of that can be called terroir. And there's also a stage in the champagne making process which is called prise de mousse, which is often left in French. Um, again, going back to the pruning techniques, Guyot is left in French as well. But you can find that out yourself by looking at a bit of target language information if you go to winery websites based in California or Australia you can find those terms left in the French or even used in French on those websites.
AH: Oh, that's interesting. Yeah, I know, obviously a lot of this stuff comes from the French, um, terroir, I feel like a lot of people know, even if you're not a wine connoisseur, but some of those other terms you mentioned… does it take a bit of a wine connoisseur to know them, or is it really that widespread in English?
RS: That's a good question, because you have to think about your audience, as well. It's really when you would be using a word like prise de mousse, you would think, well, is the audience going to understand that. So that would be a case of, well, let's look exactly at who it's aimed at, and then we'll see if it's people that are supposed to understand those terms, then let's leave it. But maybe you could add a simple explanation to the sentence, like "prise de mousse-comma-the period in the production process in which the champagne forms its bubbles," something like that. But, yeah, I think know your audience.
AH: Yeah, now that I think about it, you're, obviously you're right. That's very key. I'm thinking about my mother, who doesn't know the difference between red and white. [laughter]
RS: Oh, okay! That's more of a problem [laughter]
AH: And then, you know, a true wine connoisseur, who I'm, you know, they can get pretty pedantic and persnickety sometimes.
RS: [groan] I know, I hate that though. In the beginning, when I do my translation in the wine industry workshops, one of my first slides is a snob, a wine snob, and I put a big red cross through it, and say there's no wine snobbery. It's a specialism just like anything else. And just because it has this reputation doesn't mean it has to be dripping with snobbery. And that's really—getting back to the objective tasting notes—that's really the… what you can use as your foundation. Its… You're not saying it's good or bad. You're not saying "You know this" and "I know that," it's "Is it high in acid or low in acid?" "Is it… Can you smell cherry, or can you not smell cherry?" And this is how you can eradicate that snobbery that is rife, yeah.
AH: So, I want to go back to this 9:00 a.m. vodka tasting [laughter]. So, your diploma is in wine and spirits. Do you actively translate for the spirits industry, as well?
RS: Yes, yes, yes. It is… It could be said to be a separate field, but, at the end of the day, it's still fermentation, and then the distillation part. So, it's just a new… it's an added extra onto the process. With wine, yes, you're only dealing with grapes, and with spirits you're dealing with all manner of raw materials, but there is a lot of cross-over again. Talking about cross-over, there's a lot of cross-over with wine and spirits. Um, I think there's probably less focus on the production process when you're dealing with translating materials for the spirits industry. They tend to be big-brand clients rather than small producers. Like the wine industry… a lot of small producers doing their own websites, whereas spirits tend to be big brands doing their marketing campaigns, so the emphasis is more on their image. Um, spirits translations, I find them to be more creative, more journalistic in style, and they focus on experience around the spirit, rather than how it's made. When I first started out, I did a lot of translating for Cointreau, the spirits brand, the orange liqueur, and that was a really fascinating mix because they did talk about their production process, but it was always the same thing: sweet and bitter oranges and the distillation and everything. It was a lot of boilerplate text for that. But there were all these different experiences with, like, star mixologists coming in to Paris, and there was a campaign with Dita Von Teese, and there was a lot of really creative opportunities there, which is quite… very different from viticulture in rural Burgandy. [laughter]
AH: Huge generalization here: would you maybe say that wine is for nerdy introverts and spirits is for extroverts?
RS: Oh, no. Definitely not.
AH: Okay
RS: No, [laughter] no, you have to look at the… just think some of the big California brands like Screaming Eagle and some of the Australian… like Penfolds in Australia. These are no shy violets. I mean, they're big brands with a lot to say. So, yeah, no, definitely not. But there's probably a little more subtlety in wine, um, than there is in spirits because spirits generally taste the same every year.  Um, probably I'm generalizing there. I think Hennesy and… would disagree with me because that's the… cognac changes year to year and there's a lot of difference there, but generally, big brand spirits taste the same every time, every year, and wine is, obviously different each vintage, so that's a big difference there.
AH: So, um, what are some misconceptions from fellow translators about what you do. I mean, clearly, I have stuck my foot in a couple of them, but, what do people assume about, um, about your job?
RS: I think one of the misconceptions is that there is some of elite group of people that have been born into this wine specialism, and they can't possi… and other translators can't possibly permeate into that world, and that couldn't be further from the truth. Um, I know I do have the advantage of my husband being a winemaker, but I really did start out from scratch when I decided to contact WSET, and I was 35 at that point. I was… you know, I wasn't an enfant du pays as they say around here. Um, I mean, it doesn't do me any harm, admittedly, that my company, my freelance company has its address in Chablis. I live in Chablis. But it's really not impossible to learn a specialization from scratch. I mean, doesn't everyone learn their specializations? Nobody is born specializing in medical, for example. So, I think that's one of the misconceptions, is that it's only for this restricted group of people who already know everything about it. That's really not the case.
AH: That's comforting. Um, I have another friend who works in wine. She's a buyer for a major retailer here in the United States, and it seems like the more you get into wine the less snobby you are about it. It's the people like me who don't know anything about it who assume that it's a very highfalutin sort of career, but, um, she's very ecumenical about it, you know.
RS: But I think when you really love something, then you want everyone to share in it, so you obviously break down all those snobbery barriers when you want to share your passion and your fascination with something. Um, definitely, I don't know why it's the case. I think it's to do with maybe wine waiters or sommeliers in the 1980s perhaps smirking at people when they don't order the correct wine. I don't know. I don't know. It's a mystery to me, but maybe it's because it's being paired with fine food in this sort of rich, elite atmosphere. Maybe that's why. But it's a shame.
AH: All right, so my New Years' resolution is to drink more wine and just enjoy it.
RS: Yeah, exactly! Just enjoy it, which is also a question you can ask yourself. Once… If you are translating or if you're working in the wine industry, you could do your objective tasting note, but then at the end of the day, is it… do you enjoy it? Is it nice? Is the taste pleasant? And that is where the pleasure comes from, so, I think you should definitely, yeah, try more wines. And, what I don't like is when people say "Oh, I don't like red wine," or "I don't like white wine." It's like, have you tried a selection, because they are so different. You really try all different ones, and then decide. I mean, nobody likes… not everyone needs to like everything in the world, but definitely reds can be heavy and powerful and… heavy, whereas they can also be light and fruity and—crunchy almost—if you've got this red cherry kind of strawberry flavors coming through with… it's perfect with some fruit salad even, which you'd never… a snob would never say that, right?
AH: All right, so, um, a couple final questions: we touched on your translation of cosmetics, but you also translate for personal development, which is very interesting. Are there, just very quickly, so, um, give me a brief overview of that, and then tell me about any overlaps between cosmetics and wine and spirits and personal development.
RS: Um-hmm. Well, personal development got started because I had a contact who was working at Dannon, the yoghurt and dairy, lots and lots of different products, company, and Dannon organized this seminar, which is twice yearly, three times yearly, called Eve, and it's all about… it's for women, and they invite a majority of women with some men, so that the men feel like what it's like to be in the minority, and it's all to do with daring and taking the first steps and breaking through the glass ceiling, and ways of doing that, and that… they publish lots of different articles on their blog to do with resilience and, uh, well, all different feminist issues, and I've been lucky enough to translate for them for several years now. The cross-over there is really… not a lot of overlap between cosmetics and personal development there, but also, the books that I've been translating, that started out with a person development book, as well, called Nudge Management, all about how you can make small changes in a business environment to change people's behavior. So, some would say manipulation, but I like to say nudge. Um, so this is, for example, sticking a little fly on a urinal to keep men's aim clear and keep mess off the floor. So that's would be an example of a nudge, and that book was all about bringing those kinds of initiatives into business to improve efficiency and that. And employee satisfaction as well. So, I mean, that's just a brief overview of my personal development translation. But that varies a lot.
AH: All right, [laughter]. Sorry, I'm still getting over the fly in the urinal.
RS: [laughter]
AH: Maybe we'll call it incentivization and just working with people…
RS: "Incentivization," I like that. Yeah [laughter].
AH: That's hysterical. All right, well, final question: Is there anything else you want people to know about you, about your work, about the world.
RS: I would say, don't be scared to specialize because it's really rewarding when you get recommended for a job from someone who has heard about you but you don't know, that's a really lovely seal of approval. Um, if you manage to become the translator that springs to people's minds when they think of an area, then that's definitely a time that you're doing something right. Also, I've found that sharing knowledge is a wonderful thing, giving workshops to other translators really did set me up as a reference, as I said earlier, in those areas. Um, and, yeah, they brought me more work and, you know, contrary to what you might think, it's really not about creating competitors because I know a lot of translators would hesitate to give training because they're like, well, if they know how to specialize in that industry, then I'm going to get overtaken. But it really isn't the case. I haven't found that to be the case at all. Quite the opposite. People see you in a more authoritative light when you've been a tutor for them. Um, so, yeah, what else would I like people to remember, is, uh, try wine. Try all different kinds of wine and don't be scared of the wine world.
AH: All right. Words of wisdom from the Queen of Wine herself. Pay attention, guys.
All right, well, thank you so much, Ruth, for your time today, uh, excuse my dog in the background. He's mad that he's penned up right now, and…
RS: That's fine. It's real life.
AH: Thank you so much for your words.
RS: And thank you for listening to me. Thank you.
AH: This concludes our episode for today. You can subscribe to the continuing education series podcast on Soundcloud or iTunes by searching for continuing education series. You can contact the FLD at divisionFLD [at] atanet.org, visit our website at www.ata-divisions.org/FLD, or get in touch with us on social media. This is Andie Ho signing off. Thanks for listening, and à bientôt.
Ruth Simpson has been translating professionally since 2008 in the fields of wine & spirits, beauty and personal development and holds the MITI certification from the Institute of Translation and Interpreting. She lives on her family's wine estate in Chablis and is a graduate of the WSET Level 4 Diploma in wines and spirits. Before moving to Chablis, Ruth was an English trainer at L'Oréal's Luxury Division in Paris, facilitating workshops and tutoring business and marketing professionals. She has a degree from the University of Warwick in the UK, and in addition to studying French, she spent her time there singing with the chamber choir and musical theatre society. Also a keen scuba diver and violinist, Ruth started playing the ukulele in 2019 and has begun to suffer from UAS, ukulele acquisition syndrome. You can follow her on Twitter at @ruthinchablis.
ATA Podcast host Andie Ho is a certified French to English translator specializing in the food industry. She earned her M.A. in translation from Kent State University and is now based in the Houston area. She currently serves as the ATA's French Language Division administrator. You can follow her on Twitter at @JHawkTranslator or email her at andie [at] andiehotranslations [dot] com.
Transcribed by Joan Wallace. She has been a full-time freelance translator for nearly 30 years. She holds ATA certification from French to English and Spanish to English, and also translates from Thai to English. She works primarily in medical and pharmaceutical translation, although she occasionally wanders further afield, including an ongoing collaboration with a historian involving
French-English translation of 19th-century handwritten documents. She is based in Madison, Wisconsin. You can connect with her on LinkedIn at www.linkedin.com/in/joanwallace.