Deborah Wexler was born and raised in Mexico City and immigrated to the United States in 1999, where she settled in Los Angeles. She is an ATA-certified English-to-Spanish translator and editor with over 20 years of experience, specializing in audiovisual translation and Spanish orthography. She has translated over 6,000 program hours for television, VHS, DVD, Blu-ray, streaming media and the big screen. She is Manager of Operations of the Americas at Pixelogic Media, an end-to-end localization company that provides services for Hollywood features and series, and independent and art-house films and documentaries. She is also a freelance audiovisual translator and quality control specialist. She is a frequent speaker at international conferences, and she is an educator who has mentored and trained many translators wanting to get into the subtitling field.
Ana Gabriela Gonzalez Meade, Publications and Acting Assistant Administrator, publicationsavd@gmail.com,
Ana Gabriela is an audiovisual translation and quality control specialist with 20 years of experience in leading United States-based major studios and content-processing companies. She is a member of the #1 streaming giant language specialist team since 2014. A previous language teacher in the Higher Education, she became an Audiovisual Translation educator speaking at two annual ATA Conferences in Washington, D.C., and New Orleans; at the Spring into Action International Event held by the Association of Translators and Interpreters of Florida, the ATA's Spanish Language Division and the Florida International University at the FIU Modesto A. Maidique Campus; at the Mexican Translators Organization Conference held at the 2018 Guadalajara International Book Fair; and at the Instituto Superior de Intérpretes y Traductores (ISIT) in Mexico City. She has an MA in translation studies from the University of Portsmouth and is certified by the Universitat de Barcelona on Spanish Proofreading and Style.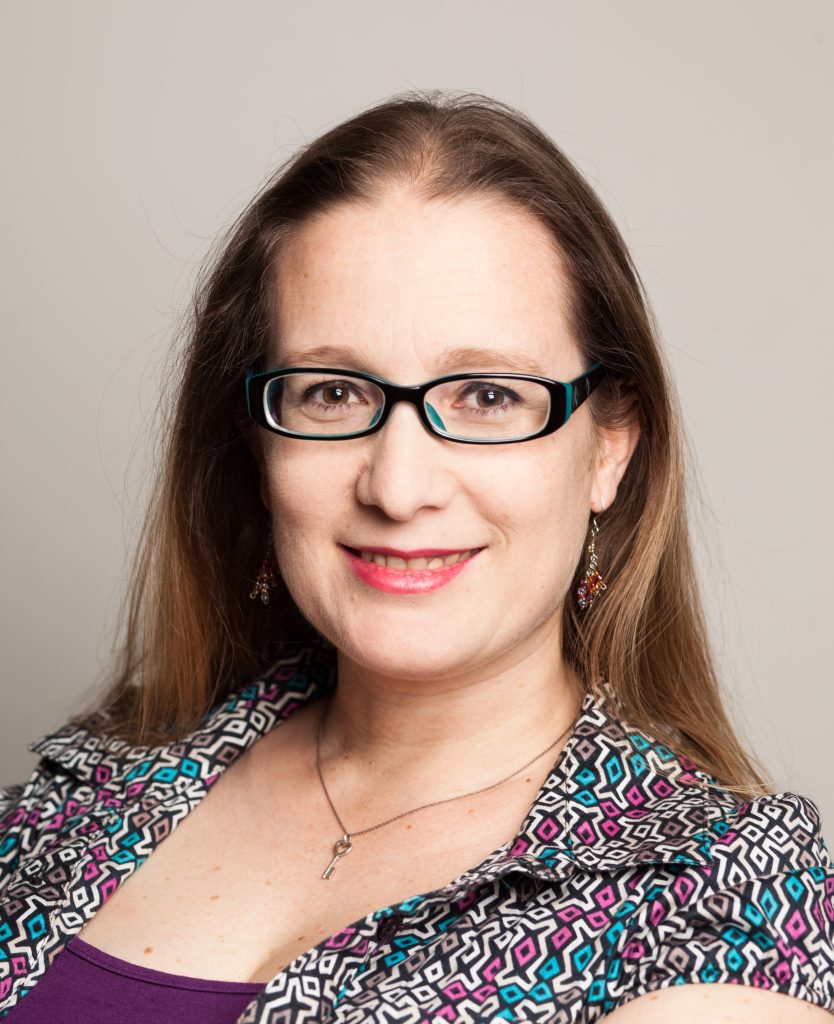 Mara Campbell is an Argentine ATA-certified translator based in the UK who has been subtitling, closed captioning, and translating subtitles and scripts for dubbing for the past 20 years. She has worked at several of the largest audiovisual translation companies in Argentina and the USA. She is currently COO of True Subtitles, the company she founded in 2005. Her work has been seen on the screens of Netflix, Prime, Disney+, Hulu, HBO, BBC, and many more. She teaches courses, speaks at international conferences, and is a founding member of the AVD.
Britta Noack was born and raised in a small town in Northern Germany and studied Linguistics, Literature and Media in Hamburg and Osnabrück. Shortly after acquiring her M.A. at the University of Osnabrück, she discovered her love for translations and the entertainment industry and became a State Certified Translator. Britta moved to San Diego, California, in 2002 and started working as a Game Localization Specialist at Sony Online Entertainment, where she was also part of a team subtitling many game videos and more. After many years of "playing games" she decided to return to the freelance world and has been working on many entertainment materials, movies and TV shows as a subtitler – among those are the hit shows Magicians, Chicago PD, Star Trek Voyager, The Affair, etc. – and also mentoring and helping up-and-coming talent in the industry.
Milbia Rodriguez was born and raised in Puerto Rico. She has more than 20 years of experience as an English to Spanish translator specializing in advertising, marketing and transcreation. She now works as a subtitle translator and Spanish to Spanish captioner. She has a bachelor's degree in Foreign Languages from the University of Puerto Rico and a master in Audiovisual Translation from the University of Cadiz.
Lucía Hernández is a freelance audiovisual and marketing translator based in Toronto, Canada. She has worked with CBC Docs, Vice Media, and Fairtrade Canada on documentaries and corporate video and interpreted at the Toronto International Film Festival, Hotdocs International Documentary Film Festival, and Caminos Theatre Festival.  She has completed M.A.s in Translation Studies (Glendon College) and Spanish Literature (Queen's University) and is certified for Spanish to English translation by the Association of Translators and Interpreters of Ontario.
Sijin Xian is an ATA-certified English<>Chinese translator and Mandarin interpreter based in Silver Spring, Maryland. Born and raised in China, she became fascinated by the English language at a young age and pursued it as a major of studies in college. She holds an MA in Ethics, Peace, and Global Affairs from American University and specializes in translating research reports for non-governmental organizations. In 2018, Sijin discovered a new professional obsession when she branched out into audiovisual translation and now has over 600 files under her belt as a subtitler and quality controller. She is particularly passionate about creating a pleasurable viewing experience with thoughtful linguistic and technical decision-making. True to her Sichuanese roots, Sijin counts hot sauces among the bare necessities in life.
Marie Winnick grew up in a bilingual Italian-English household in the United States, began learning Spanish at the age of 15, received her Bachelor of Arts in Film and Video from Columbia College Chicago in 2006, began her freelance translation career after receiving her Spanish > English Translation Studies Certificate from the University of Chicago Graham School in 2012, and began offering Italian > English translation services in 2017 after producing a few dozen headline articles for foreign news aggregator Watching America. Her subtitling, closed captioning and dubbing script translation work can be seen on most of the major streaming platforms, as well as on some major TV networks and independent outlets. She also offers police/legal transcription and market/marketing research translation services. She hopes to start doing audio description for the blind sooner than later.

Daniela Costa is an English<>Spanish certified translator and attorney at law from Buenos Aires, Argentina. She is a member of ATA and the Buenos Aires Sworn Translators Association. She has been working as a freelance subtitle translator for leading localization companies for over 20 years, and her works can be seen in theaters and major streaming platforms. She also specializes in the translation of legal and agricultural texts, and she is a full professor of Legal Language I & II at Universidad del Museo Social Argentino. She is currently taking a masters in audiovisual translation at the University of Cadiz.
Isabel Asensio was born and raised in Spain, and immigrated to the United States in 1999. She is a freelance English<>Spanish certified translator—specializing in audiovisual, technical, and legal translation and transcreation—and founder of Verba Language Services, LLC based in Ogden, UT. She is also a full professor of Spanish and Translation at Weber State University. She is a voting member of ATA and other professional organizations such as ATRAE, the Utah Translators and Interpreters Association, and UFLA. She holds a master's degree in Audiovisual Translation and Localization from the University of Cádiz, and a PhD in Comparative Literature from Vanderbilt University. In her spare time, Isabel enjoys outdoor and mountain sports such as running, biking, hiking, and skiing; she also enjoys reading historical fiction and crime novels, and she loves playing board games.