by Fernanda Brandao-Galea
For three days, 300+ attendees—comprised mainly of translators, academics, researchers, managers, and CEOs— engaged in discussions, learning opportunities, and deep thinking on the role of languages now and in the future. We were encouraged to work together to better understand present trends and shape the future of the industry. The conference experience was a human-centered design aimed to be an empowering reflection on objectives and beliefs.
The participant-oriented conference incorporated technology and interactivity powered by Slido as its Q & A and polling platform. Through this channel, attendees asked questions, upvoted questions to be discussed, and answered polls which results could be shared live. Right from the opening session, the audience engaged so promptly and enthusiastically that only a portion of the overwhelming number of questions could be answered. The app tracked remaining and subsequent questions, which were then addressed by a handpicked Q & A final panel on the last day.
David Padmore, keynote speaker, discussed four emerging trends that impact our industries: exponential growth in content, ubiquity of technology in our lives through artificial intelligence, Internet of things, machine learning, new distribution models, and the future of work. He challenged attendees to consider how we individually and collectively cope with these changes.
Opening Session by David Padmore: How to Survive the Fourth Industrial Revolution
Padmore identified the key stakeholders in our industry (freelancers, academics, technology providers, service providers, regulators) and current conditions of low prices in the market, short contracts, and high-quality expectations. He suggested that all stakeholders alike work to meet these challenges and that in order to succeed they will have to rely on adaptation, continuous learning, communication, and collaboration.
Demands for each type of stakeholder will vary. Service providers must address the need to manage remote workforces. Trust and soft skills are vital to create relationships, assemble and reassemble teams. In turn, workforces will be responsible for their own learning. Individual knowledge-driven staff will require autonomy to train and reinvent themselves in an era of change. Automation is essential to meet simultaneous high-quality and promptness demands. It is not humans versus machines conflict; rather, the challenge is a joint effort of humans and machines to boost productivity.
Given that 94 speakers presented research results, best practices, language tools and technologies, it was impossible to attend all sessions. I selected sessions focused on quality standards in subtitling, platforms, workflows, and tools.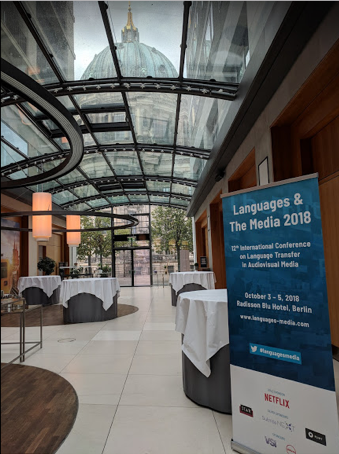 I regret missing sessions dedicated to audio description, dubbing, live subtitling, or respeaking. The Conference Catalogue, with printed session abstracts, helped me investigate session topics and make hard choices on which to attend. For the dedicated researcher, the Conference Catalogue includes bibliographies pointing to source material, and facilitates follow-up with speakers after three intense conference days.
Finer Points of Subtitling
An often-cited subtitling rule of thumb is the "six-seconds rule" recommending that a full two-line subtitle should be displayed for a maximum of six seconds. On this topic, Agnieszka Szarkowska presented research delving into reading speed, also referred to as subtitle presentation speed or presentation rate. Through a combination of methods, like eye tracking, questionnaires and semi-structured interviews, she and Olivia Gerber-Moron determined that modern viewers can keep up with faster subtitles. Olivia presented their conclusions on subtitle segmentation, confirming that non-syntactically segmented subtitles increase viewers' cognitive load and negatively affects comprehension.
Agnieszka Szarkowska – University College London, UK / University of Warsaw, Poland
Many sessions touched on subtitling quality and quality models. Jan Pedersen proposed a model for assessing general quality of interlingual subtitles. Other models heed subtitled products and language assessment as much as the whole process, including social, working, and environmental factors that can impact quality of final results.
On the technology front, cloud-based tools and workflows were the focus, and a list of related pros and cons were discussed: on the one hand, they require no installation, they allow login from any computer, version updates occur in real-time, they offer control and content security, and they make collaboration easier. On the other hand, they don't support old video formats, they may require video processing, and will keep the translator sidelined without an internet connection.
On a poll during the Netflix presentation, translators suggested features they would like to see in a CAT-tool. A word-cloud graphic showed that working offline is one of the main demands, along with autocorrect, spell-check, and translation memory.
The live word-cloud graphic shows working offline is in demand
I attended sessions from Ooona, Star Group, Dotsub, and SubtitleNext. Alex Yoffe, from Ooona, stressed that changes in workflows demand fast turnarounds, control, consistency, collaboration, and security; all reasons for the shift to cloud-based tools. They presented their toolkit's functionalities and advantages, like open API. Gabriele Kock, from StarGroup, presented Transit for consistent subtitle translations with emphasis on terminology. Tanbir Johal, from Dotsub, presented their cloudbased workflow for video translation management for LSPs focusing on complex workflow collaboration. Vladimir Stanic, from SubtitleNext, presented a hybrid model that merges cloud storage and local storage offline availability collaboration, thus embracing the best of the cloud and desktop worlds.
Closing
In the closing session, Slido helped organizers evaluate attendee experience at the conference. Over 70% gave it a positive rating for an overall score of 7.1 on a 1-10 scale.
Overall experience of the attendees at the conference
Audience favorites for future topics
We can expect dubbing, respeaking, quality and workflow to be featured topics. From my experience, it was a great opportunity to learn, network, and do business. I met Anna Matamala, Lecturer at Universitat Autònoma de Barcelona, and Jorge Diaz-Cintas, Lecturer at University College London; whose books and papers everyone in the field had read. They generously provided guidance and insights for my research project. Such personal connection with leading thinkers in our field is priceless, so I encourage anyone with a passion for language transfer in audiovisual media to consider attending the 2020 conference.
---
All rights of use for photographs granted by Fernanda Brandao-Galea, who took them herself as a conference attendee.
---
Fernanda has worked as a professional translator since 2011 after stints in diverse careers: chemical engineer, law student, and project manager in Latin America IT sales. She specializes in areas pertaining to her background such as website localization, voice-based technologies and audiovisual translation, especially subtitles. She has lived in Brazil and Argentina but currently resides in San Francisco, California, a technology and entertainment hub. Find her at: www.f2-global.com.
---
Published in Deep Focus, Issue 1, December, 2018